So…over the 3 games in the democracy series we have experimented with various ways to get artwork to represent the various ministers that you appoint in the game to run each section of the country. In Democracy 1 they looked like this:
In Democracy 2 like this:

In Democracy 3 like this:

That last game used some cleverness to kind of randomly generate ministers from a whole series of layers. It was a grand experiment which gave us loads of ministers to choose from but… I don't think I was ever 100% happy with the results. This wasn't exactly cutting edge procedural animation etch, but even so I think that on balance, I'd prefer to have a relatively *small* range of interesting, different hand-crafted images to choose from than try and go all procedural on the ass of this problem..
Obviously the only problem this creates is BUDGET, in that Democracy 4 will be happy to run on your 2560 (or higher) res PC, and thus we probably need quite detailed (large) images and thus we probably need to spend a lot of money on artwork for these… *gulp*.
The other issue is that the world is a DIVERSE PLACE, and we expect to sell the game all over the world so…its an impossible problem, and people will yell at us and call us sexist/racist and other terms regardless what we do so with that in mind…
HERE (below: click to enlarge) is a bunch of 30 reference images. They are all REAL world politicians. Some are nice, some are not nice. Some are famous, some really obscure, but I think they look different enough for you to recognize each one when used in a game. They will NOT be exactly like this in the game, these are just 'reference art' for painting the actual in-game images.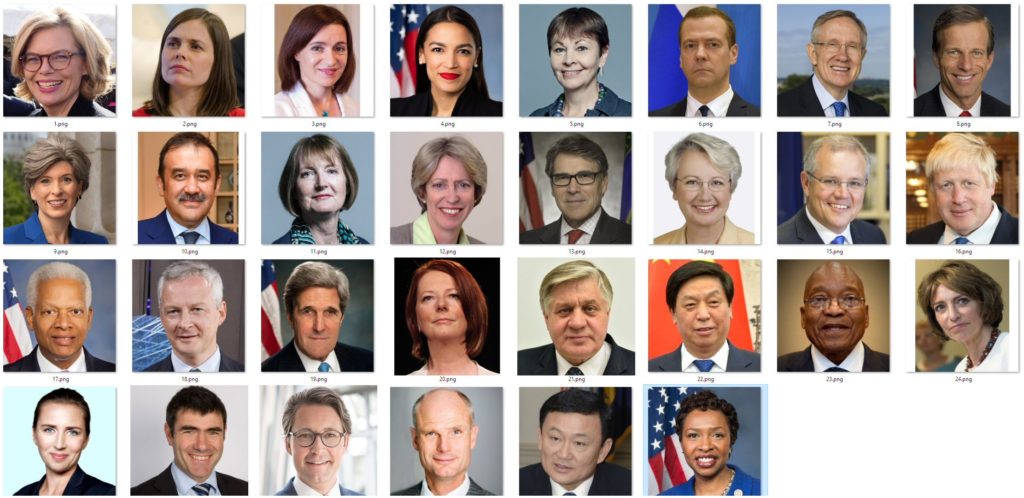 So what I'm asking is…does this look OK to you? Don't forget that the world of modern politics is not a utopia. There are not 50% women, or accurate representation of each ethnicity. If you are governing mexico with these cabinet ministers it may look strange, it will also look strange to govern African states with this cross-section, obviously. I know that. If the game looks like being a big hit, I'd love to vastly increase the artwork range to include more diversity. Decent character art is NOT cheap! Be aware that the majority of players will be American or from Western Europe.
I just want initial feedback. Do these look like a bunch of politicians to YOU?
BTW I don't care if you don't know WHO they all are, or if you HATE those people…that goes without saying :D I just want feedback on the general 'tone'. (I'm braced for being a target for absolute hatred from every angle as we develop this game. politics has never been so ANGRY)