I just got a big info dump about the second school I paid for in Cameroon. Also lots more pics. For the first time I got proper pics of the old school (before we had pics of a different school, which eventually we changed from to this site):

which doesnt look too good and had numerous issues:
"Since 4 out of 7 seven available classes had dilapidated and were
abandoned, only the 3 available classes in a manageable state could be
effectively used. Classes 1 and 2 had to share a single classroom, classes 3 and 4 and classes 5 and 6 also shared a room respectively. The classrooms were therefore overcrowded making teaching and learning very difficult.
Whenever lectures of one class were more interesting, pupils from the other class sharing the room were distracted and could not concentrate on their lectures. This impacted negatively on the performance of the pupils."
With the old school, the stats were as follows:
"The total number of pupils in the school when feasibility studies were carried out stood at 205, of whom 114 were girls and 91 were boys. At the time of the feasibility, the school had a total of 4 teachers including the head teacher who were all employed and paid by the church. Some of the teachers had to teach 2 classes as the teachers were not enough to cover the classrooms."
The main problems:
Insufficient and inadequate classrooms
Insufficient benches, tables and chairs for pupils and teachers respectively
Inadequate toilet facilities in the school
Lack of water in school
The new school looks like this: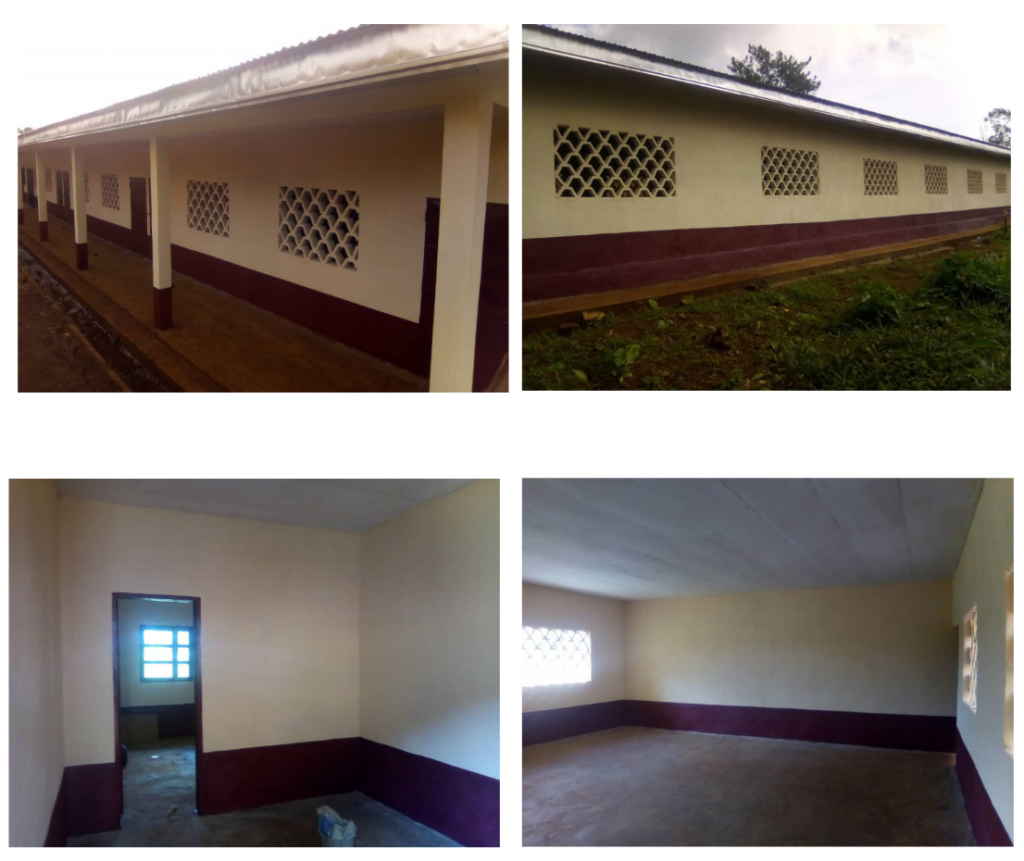 The project had the following outcomes:
3 classrooms, an office and store have been constructed and handed over to the school
A 3 compartment toilet block with hand washing facility constructed and under use in the school presently
27 Benches, 3 teachers tables and chairs provided and in use
More interestingly:
An improvement in pupils' performance have already started to be noticed since they started using the new infrastructure and equipment in 2019/2020 academic year. The syllabuses can now be covered as no time would be lost to rainfall disturbances or cleaning of dusty floors
Enrolment have increased by over 92 pupils at the beginning of the 2019/2020 academic year with the presence of the new infrastructure and would continue to increase
A reduction in the prevalence of illness among the children and improved hygiene and sanitation in school. Upper track respiratory track infections have reduced as well as jiggers
School attendance have improved to over 100% since the use of new infrastructure especially for classes using them and this would continue.
I'm very pleased to have hard numbers on this stuff. More kids getting an education, and more kids getting a BETTER education, plus a reduction in health problems. Awesome. Total cost is about £24k.
Its worth noting that sometimes the shortage of teachers is related to the condition of the school. Basically a nice, modern, clean school will attract the best teachers, and more of them.
Regrettably, Cameroon is facing serious problems, and they badly need help. I currently have a bad back AND bad toothache (just got back from dentist), but its humbling to realize just how amazeballs lucky and healthy I am, mostly because I happened to be born in the UK. Anyway, thanks again to everyone who buys my games and puts me in a position to do this kind of thing.