So unless you have not heard, i'm making an expansion pack for my car factory game 'Production Line' which adds a new car type (supercar) and also some new door options as features for various car models, and those door types are Scissor-wing doors, Gull-wing doors and butterfly doors. I've done a video that shows these off (below) and also we have a web page for the dlc that you can find here.
I thought I'd put down in writing how this came about and why this was the DLC I decided to do. Personally I'm a fan of DLC, but only if its actually 'adding' to the game, or giving the player options, rather than just tweaking some numbers and selling a few text files for $5.99. That seems a bit exploitative, so I always focus on doing DLC where we have new art content at the very least. There is a LOT of art that goes into a single car body design in Production Line, because every car is completely different in terms of where the wheels are, what the headlights look like, even what the axles and drive shaft looks like and where they go. Nothing currently gets simply re-used between body styles.
Adding a super-high end car to the game makes sense from a design and balance point of view, because it means we can leave the balance of the existing game in place, and effectively just add a new style option for the luxury cars, and add a tiny section of the public who only want to buy a super-car shaped vehicle. In the real world, most sales at that price point already are accounted for by people buying sedan and sports style bodies, but there are some people who would want to spend the same budget on a car with a crazy shape.
Plus crazy designed cars are cool right?

Once I knew we wanted a supercar, having crazy doors is pretty much a no-brainer. people love cars with mad doors, and some research showed that butterfly, gull and scissor were the most common options on modern real world supercars. In theory putting all this in the game was going to be mostly artwork, and then some balancing by me. pretty easy huh?
It turns out..NO! This was extremely tricky because of the way the design of those doors overlaps other parts of the car when they are open (which involved a lot of re-ordering of existing components), and the nightmarish fact that gull wing doors actually require a different 'roof', to allow for the cutouts n the side for the door hinges. This means I had to redefine these door 'styles' as roof types, which also ensures you cant have gull-wing doors and a panoramic sunroof…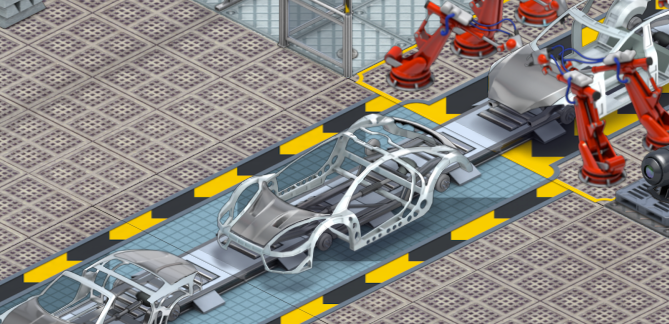 As a result, door styles have to be like drive-trains: set in stone when the car chassis is first created and unchanged for the lifetime of that existing chunk of metal. In game-terms, this means that switching your luxury sedan to use gull wing doors will not have any visible effect for a while, as the cars right at the start of the line are then set to be gull-wing, but they have to get all the way to the door panel slot for you to notice.
This also involved a huge amount of special case code-spaghetti, because if you have gull wing doors, then certain other things change. You cannot stick normal windows or wing mirrors on a gull-wing door, and so-on. There was quite a bit of complexity involved in swapping some components for others to accommodate the new system.
I like to give my artists total freedom to create cool stuff and tell them I will worry about making it work. I get better art that way, but more work for me… It turns out that yes…its very cool that the supercar's engine is behind the driver, but that caused me some hassle to ensure that when the engine gets fitted, its the back part of the car (trunk) that opens up to have it fitted, and not the front… (99% of players wont notice, but I like to surprise the 1% who do). As we were doing this anyway, it made sense to support the same capability for the sports cars, which also look like they have the engine in the back.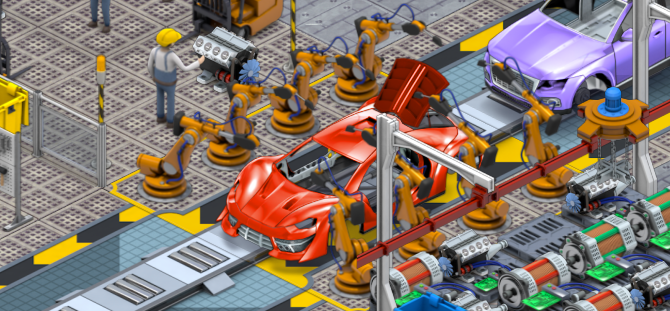 So all of that stuff is now DONE and tested and working in the game. The installer is done, and I'm working on the steam build, and mod-panel integration. All I need to do before release is keep testing the balance of this stuff to ensure that the doors are expensive and awkward to fit (but not unprofitable or too annoying) and that demand for these features and for the supercar makes sense.
Right now, the game is being tested with supercar sales only taking place in the luxury price band (well yeah…) and with a market size of 4.76%. I think thats maybe a bit high, and obviously in the real world its <1% but this is a game and needs to be fun :D
In terms of balancing the doors, they are currently just ordinary door panels..BUT the slot-upgrades are pretty expensive ($195,000 for a slot upgrade for scissor doors compared with just $3,480 for central locking) and they require sensors and servos, which lead to a bit of a bottleneck (intentionally). Plus the actual fitting time to add those doors is considerable, more than doubling the max-optimized time to fit ordinary door panels.
The final piece in the puzzle is the design cost. All door types need to be researched separately and also you need to research the new supercar body style. These are quite lengthy research items, but there is nothing stopping you skipping all the other car bodies and making supercars or gull wing doors your early game priority!
If you like the sound of all this stuff you can wishlist the DLC using the widget below.
If you are a youtuber looking to cover the game and want to make a key request you can get in touch through keymailer (below) or email me your steam curator name.