If you read my blog often you will know I can be very irritated by poor performance in my code, or for that matter, anybodies. Firefox is possibly the most memory-wasting application in the known universe. Quite why it needs >3% of my entire CPU right now for me to just type these characters is beyond me. Despite this, such performance is not 'noticeable' in the same way that a sluggish GUI can be. When you click a button in a game, the resulting action needs to happen IMMEDIATELY for you to feel like you are using the interface, not fighting it. Thus when launching a dialog box in a game, the aim is always to have its initial loading time to be as minimal as possible. often thats easy, sometimes…not.
When you click the 'load' button on the main menu of Production Line (my latest game), it loads a dialog with a list (scrollable) of windows for each save game on the disk. There are thumbnails for each one showing the screen grab from when they were saved, plus some data about each save game. Example: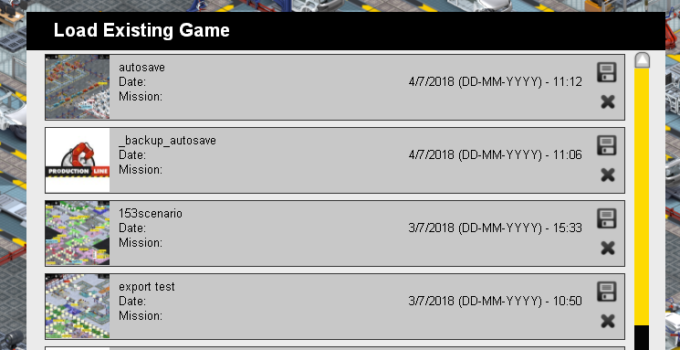 This probably sounds like it should be pretty fast to create, but actually its annoyingly, painfully slow. Before you ask, yes I do the initialisation 'lazily' in that I am not loading in textures for the save games until I draw them, so the ones that are currently not visible due to the scroll position have not slowed me down. Actually the slowdown is much simpler than that.
There are currently 25 savegames in my list, in a folder with 50 files (a thumbnail for each one is in the folder too). The files range from 600k to 176MB for the actual save games (XML format) and the thumbnails are tiny 50k jpgs. Why so slow?
At the very least I need to query data about 25 files here. The dialog box puts them in order of creation, and to ensure its really accurate, I dont use windows file attributes but actually crack open the XML to take a look at the header data inside. At this point, I extract the date, and time, and do a version check to reject super-old unusable saves. I strongly suspect that the delay I sometimes experience (only when I've been doing other stuff, and the files are not in the cache of the hard drive, or in windows RAM already) is actually not even the reading of the files, or the enumerating of them (50 is not many) but the accessing of them.
When you access a file in windows quite a lot of behind the scenes crap happens. Drives may have to be spun up (or not, depending on tech), maybe even network shares may have to be connected to (not in this case), maybe wireless network drivers need kicking out of sleep. Windows needs to check that you have permission to access that file, to compare the desired access against permitted access. It needs to navigate a chain of block links if the file is fragmented on disk, and as it does all of this, the users anti virus program will kick into gear, scanning the file (maybe even the entire thing, like my big 176MB xml?) for malware.
All of this takes TIME.
The worst thing is, this stuff all happens for each individual file, which is why game engines tend to use pak files. (I have support for them in my engine, just not using it yet). The problem is, users save games are one area where you likely really cannot use them. These are files created by the user, and its often helpful (especially during beta) for them to be simple files the users can access, delete if necessary, copy if necessary, email to the dev if necessary. So pak-filing them is not an option. There are many hacks I can think of, including maintaining a summary of the games in a single file I can update lazily at another time, but nothing that doesn't generate more complexity and potential for bugs.
One solution, if I was really bored and desperate for speed, would be to embed the jpg into the xml, so that the umber of files instantly halved. Certainly a future option. I could also swap to compressed save games that were likely 1/10th (or less) the size, which would make debugging them a tad harder, but would mean much less raw data for windows and file-scanners to deal with.
I'm definitely not happy with this tiny, tiny (under half second) delay when you click that button :D