In playing a lot of Democracy 3  lately (also playing a lot of democracy 3:Africa), I have started to wonder if the way a lot of the situations are set up is a little too 'steep' and could be balanced better, especially regarding some of the negative situations.
Take for example, technological backwater…
This kicks in at level 0.6, and ends at level 0.4 for its inputs. So if your hidden backwater value reaches 60% it starts, but you have to go below 40% to get rid of it. I think that mechanic is fine but…
The impact on GDP (for example) is
-0.02-(0.12*x).
Which means that when this kicks in, you will get
-0.02-(0.12*0.6) which equates to -0.092, or a 9.2% drop in GDP. (actually not that simple, because its a 9.2% cut in 0-1 terms, which if GDP is, for example 0.5, that would be a 18.4% overnight drop in GDP).
Looking at it backwards, when you beat the tech backwater, assuming a GDP value of 0.5, that
impact on GDP just before it drops is
-0.02-(0.12*0.4) which would be -0.068, or 13.6% of current GDP.
Thats a sudden jump up and down of GDP in double digits, which seems huge, given that its a fairly arbitrary measure.
I've tried to illustrate the current setup with this crude graph. Bright red is the bit where the backwater kicks in and is in force. Dark red is the bit where its still in force once its triggered. The green lines show the sudden 'jumps' in impact on GDP when its triggered (rightmost) and when its fixed (leftmost).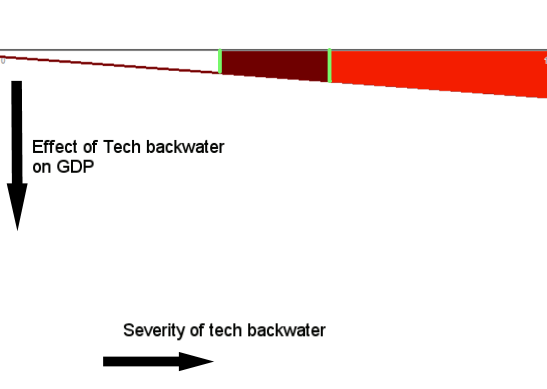 What I'm trying to avoid is the situation where you GDP just flat-lines or is 100% all the time, rather than being more interestingly poised between the two and shifting more realistically. Which countries GDP ever jumped 13.6% in one quarter? I'd say few:
http://data.worldbank.org/indicator/NY.GDP.MKTP.KD.ZG
So…if you are still reading..well done :D. What I'm suggesting is that maybe the situations such as these need to be tweaked a bit so that the 'entry' and 'exit' top the situation is less drastic, and that, for example 'reducing' a situation like tech backwater becomes more relevant than the current situation where its a bit binary and a bit of a 'its active or not' mechanic. For one thing that -0.02 starting point could go and be replaced with an adjustment to the top end (so 0-(0.14*x)) or maybe it needs more of a curve and a different starting trigger. Or is it fine as it is?
Thoughts welcome!