There was a time when the two buzzwords guaranteed to generate hype and news coverage were the words 'procedural' and 'generation'. They were most popular as 'procedural generation', less exciting when describing people as the 'procedural generation'…anyway…
I'm not sure it really lived up to the hype. There was a time when we really needed this stuff. Elite couldn't have generated an entire universe within 16k without it. And when you are doing a small indie game on a budget but want a large world, it can make sense. the problem is, you hand over control over design not to designers, but to mathematicians. Sure, some of the best developers come up with hybrid systems, where the designers are still in charge, but I do worry that we have gone too far down the road of 'look lots of randomly generated stuff!' and not enough down the 'this is a wonderful hand crafted world'.
I love big open-world games, but I hate it when I start to recognize the maths behind it. Yup, another little fishing village I haven't been to before but…isn't this just the last fishing village with the houses at different angles and positions? is that *really* all we can do these days?
I find myself thinking about this because of Democracy 3. If you have played the game you might recognize the ministers screen. It has randomly generated minister portraits like these:

Before that, in Democracy 2 they were individually drawn like this:

I think D2's look way better than D3's. I think the random generation thing went too far. The problem is, with D2, you kept seeing the same faces again and again. I couldn't afford the variety.  It wasn't exactly game-wrecking, but even so, it was annoying. For Democracy 3: Africa we are going with a hybrid. The artist created all the assets and we are selecting a big bunch of individuals: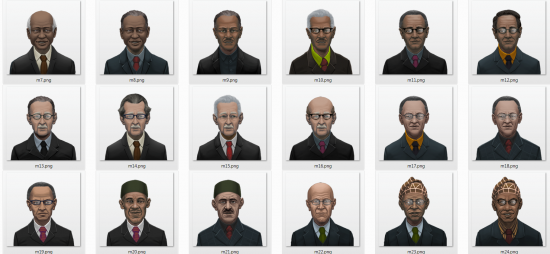 I think thats a good compromise. D2 had 13 ministers of each gender. Democracy 3 Africa already has 70 each, and will likely have more, and I think they will still look better than the base game truly random ones. Am I right?