Gratuitous Space Battles was a relatively big hit game (at least for positech), but it managed it despite some hilariously bad decisions. The lack of any decent explanation of how the core game mechanics work has to be one of them… For example the whole thing where some beam lasers bounced off shields, and some did damage, and you had no idea how or why probably upset some people. It was all explained in the manual, which obviously nobody read, because it looked like an RTS or an arcade game and thus such things aren't necessary…bah.
The mechanics in GSB2 are slightly different, in that weapons have a fixed 'damage' but the effectiveness of that damage varies by hull/armor/shield. So a weapon might do 100 damage, at 50% if it goes straight to hull, 75% to armor, and 200% to shields. That makes it an awesome shield-hammering weapon, but not one you'd want to deliver the killer blow.
At least now a new part of the pop-up tutorial stuff does this: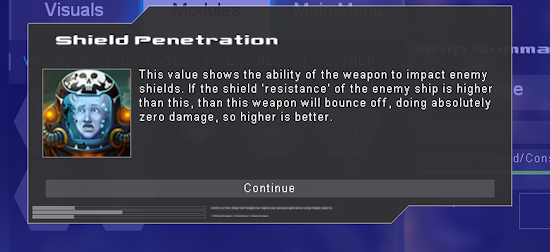 Which should at least mean a higher percentage of people pay attention to that stuff. Now I think about it, I should probably add some code that encourages weapons to select targets based on their effectiveness. ARGHHHHH.