There are now quite a few cool-looking mods for Democracy 3 on the steam workshop page (and others for non-steam versions can be found at my site here). I'm so glad I introduced modding support. I haven't tried very many of them, but just from the titles, I like the sound of the 'State Pyschologists' mod, the 'Religious Prisons' one, and a whole mod dedicated to dental health issues (oh yes).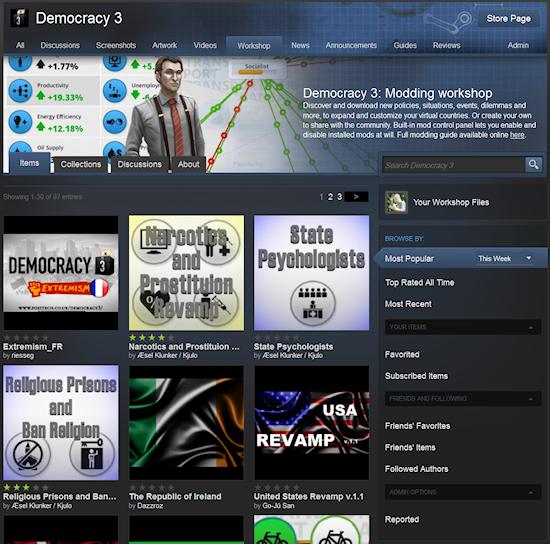 I have a few ideas myself for mods, which I throw open to the modding masses. For example:
National lottery! (makes the poor happy, but also poorer at the same time!)
Help-to-buy scheme. Essentially the government backs mortgages for the middle classes. Popular with the middle classes, but expensive if GDP drops due to defaults.
You can pretty much look at the headlines on any particular day and find something that is very moddable for the game :D. In the meantime, i should point out that the retina-font update for the ipad version is OUT NOW! And already got a thumbs up here:
http://www.pockettactics.com/news/ios-news/vote-fixing-democracy-3-update-adds-lovely-retina-fonts/
So if you were holding off because of that, please take another look, and as ever, please leave a review of the game in the store if you like it :D.
I'll have other news soon, both Gratuitious Space Battles 2 related, and 'other stuff'. Stay tuned and all that.