I've been playing some World Of tanks. I've played before in the beta, now I've started for real. I haven't spent any money on it yet. For those unaware, WOT is a free + microtransactions game. You earn gold and experience in the game to buy and research better tanks and crew, or you can just go and buy them with real money.
I don't play normal MMO games any more because of my dislike of the tedium of 'grinding'. To me, grinding is a failure of design. It's an admission that the actual game isn't very fun, so you need to stretch it out as slowly as possible so people pay a lot in subscription fees to you before you run out of content. It's cynical. Imagine any other medium of 'entertainment' introducing a grind. Imagine a crime novel where you had to read through 12 almost identical chapters of the detective interviewing a witness before you could 'level up' and get rewarded by a chapter with a new clue. It's just silly. We don't do it in TV, Movies, or Plays, but in games, making the player do a tedious job to earn the next bit of entertainment is considered fine.
I found when playing WOT last night that I wasn't having any fun at all. I wanted a better tank than the tractor with a pistol that you start with, and It seemed I got points for just being 'in' a battle and spotting an enemy tank before I died, so I played 10 quick battles where I just hurtled towards the enemy and died, to get the points. No fun for me, or them. No entertainment was had. And yet, at the same time, people whizz past me in better tanks, not because they are better at the game, but because they have more free time, or more money. I could sense that as a player, this subtly makes me unhappy, frustrated and jealous. This is not fun.
In Gratuitous Space Battles you sometimes get a player-designed challenge with faster ships, but that speed has come at a tradeoff. The player had the same points and the same components as you, they just re-arranged them differently using their own judgement and skill. That is what games should be about. A level playing field, and instant fun with no grind. I sadly accept I'm in the minority on this :(
Anyway, time for another clue. Nobody had a clue what clue#4 was did you? I'm dissapointed in you :D It's  a very very specific form of art, from a very specific point in history.
Clue #5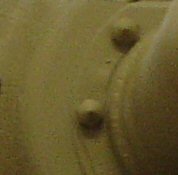 …