Here is a screenshot from democracy 4 that I am not happy with, and I'll explain why: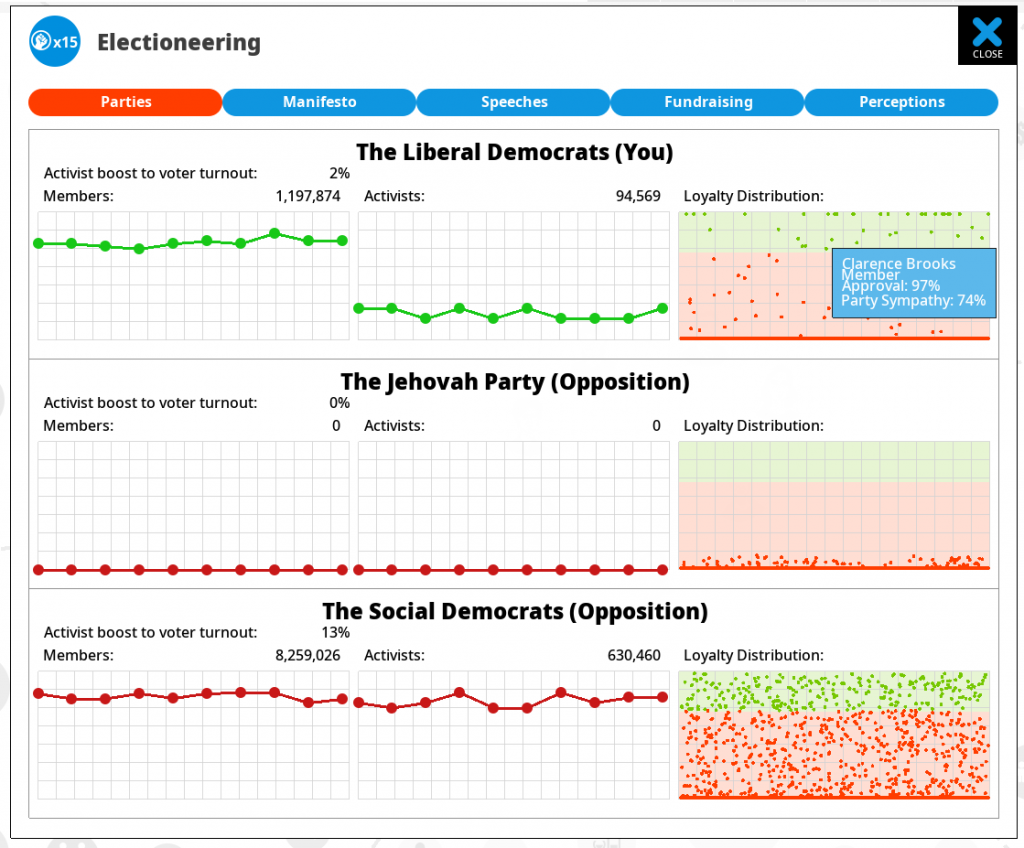 This is the parties screen in a 3-party game, and shows details of each party. The data presented is members, activist (real dedicated members who help get-out the vote, and then a scatter graph showing 'approval of the party' by every voter showing how close or far away they are from becoming members.
That third chart is the one I added today, and am thinking it kinda sucks. Its supposed to help the player understand fluctuations in party membership by giving them more than the 'binary' data of whether a voter is a member or not. This is because in the real world, people can be moderate members (they joined once, but don't read the newsletter, and don't get involved beyond just paying membership fees), right up to passionate members who become activists, hand out leaflets, attend rallies, and volunteer to help with fundraising and phone-banking.
The distinction is important, because you can have a party filled with extreme loyalists (unlikely to quit if you upset them a bit) or with moderate 'soft membership', where they are already disillusioned and the slightest policy shift will cause a collapse in membership.
BTW party membership matters because membership raise funds (used in campaigning), and members ALWAYS vote, regardless of usual turnout figures.
The problem is, I don't think those charts make much sense to anybody who didn't code the game… They shows party 'approval' on the Y axis (the X axis is random plotting), and approval depends on how close the voters opinions are to the parties position, and how close it has been over a period of time. This is complex and vague.
I think I might replace it with a single, taller graph that works differently and shows the range of approvals from zero (I HATE the government) to 1 (I LOVE the government), and plots everyone on that axis. We already have that (in a different axis) for the popularity analysis on the 'everyone' screen: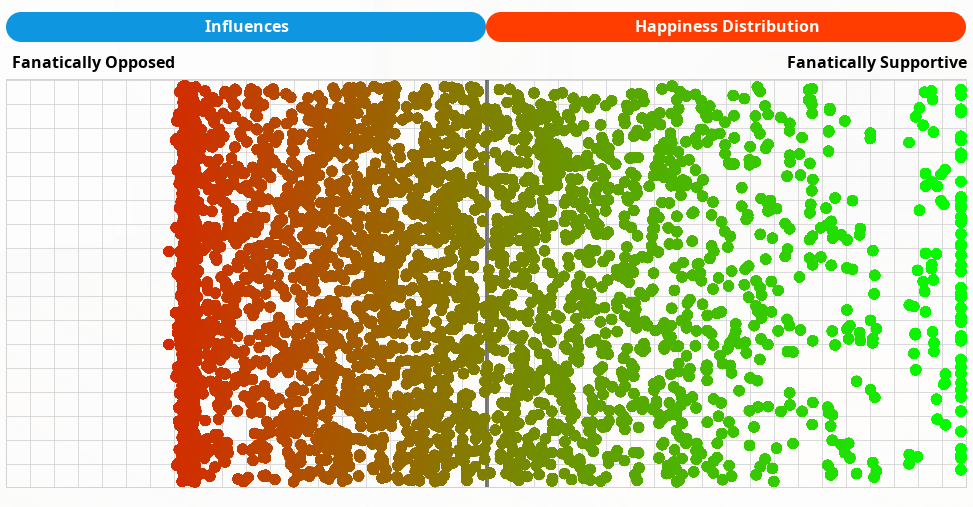 So I can do that but tilted anticlockwise 90 degrees. How does this help? Here is my magic idea:
I give each party a color (green, red blue) and I use those 3 colors to colorize the dots for each voter, showing how close they are to each parties platform. Voters who are members get colorised, others just get plotted in grey. I think this will work tons better, and it will make more sense… maybe. I'll try it and post it tomorrow.
Ok…I couldnt stop and eat until i tried it. I think its better (needs some formatting tweaks)… thoughts…?