Having been away for a week to relax, coming back to work I have a desire to release an update for Production Line sooner rather than later. I hate people thinking work on the game is slowing down or stopped (ha! no chance). Because a week off means a week less features, this update which i plan to test tomorrow and deploy Sunday will not be huge, but it will have a whole host of minor bug fixes and tweaks, and also the first steps towards marketing.
Basically you will be able to research marketing facilities and place them in your factory like this: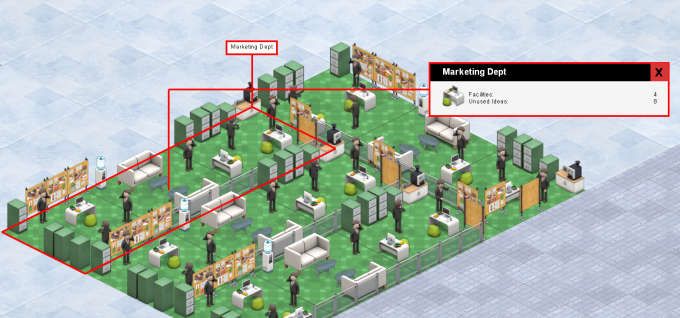 And there is a new GUI you can launch from the main menu strip at the top of the screen which for now just shows you that same summary information. Right now, the facilities generate 'ideas' over time, and those are saved and loaded, but you cant use them yet until I code some basic marketing campaigns which should start to go in next week.

Also in development are some new achievements, and a new car body style (4×4 or 4 wheel drive if you prefer, or jeep-style-thing if you prefer). and eventually some proper sound effects. I'll probably get around to some more optimisation and some proper tutorial improvements soon too. With any luck I'll do a developer blog video tomorrow.
In unrelated news, our village has been told we will get fiber internet by 2018. Yay…but I'm not holding my breath. still waiting for a quote for 'fiber-to-the-premises on demand' (FTTPoD). Theoretically that's 300Mbps down 30Mbps up, which would be amazing, but the cost is outrageous and I'm getting annoyed it takes so long to even get a quote.