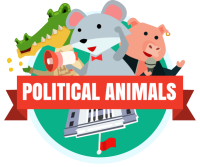 Greetings Mr/Madam president! And welcome to the land ofcCorrupt crocodiles and meritocratic mice! Yup… we finally have our first teaser video to show political animals to the wider world. This is a political strategy game being developed by Squeaky Wheel, the studio founded by ex prison-architect & spacechem artistic genius Ryan Sumo. Its being published by me! Who would have thought I would choose to publish a political strategy game huh? SYNERGY BABY!
Anyway…here is the teaser video. Nothing is final, as is normally the case with teasers…
Why release this now…? well partly because <insert drumroll.wav> Political Animals is in the Indie Megabooth (technically the minibooth) at PAX. Details on the megabooth are here:
That means the intrepid Ryan will be propelled around the globe to stand there and talk to members of the press and public alike about how Mousey and Croccy will battle it out for political control of the island. I'll be honest… we are a bit of a disadvantage on the US press/PAX stakes. Ryan is from the Philippines, and I'm from England and I will not be at PAX (I'm not keen on too much long distance flying for tree hugging reasons), so we don't have a ton of contacts in the local press. This means we are relying on Ryans intense charm, and my own ability to shout loudly on twitter to persuade members of the press to go check out the game.
It is the ONLY game featuring politically motivated mice in the entire show. So that's one scoop right there. Plus I'm not sure how many other Philippine dev studios are showing at PAX but I suspect not many, so there is the whole 'covering international dev scene' angle to it all too. Plus…in case you have not noticed there is an election coming up soon in the USA (Seriously, its been quite low key, but I assure you that it is this year), so what better way to reference current affairs than through the prism of cute mice with megaphones.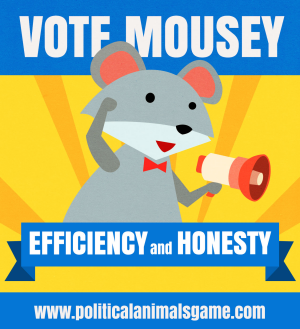 Seriously US voters…if mousey ran as a third party candidate right now, he would win right?
Feedback on our teaser is most welcome. Its obviously not our final trailer, loads more details to follow, plus I intend to finally get the hang of youtubing to the extent that I'm going to do weekly playthroughs of the game to get people in the mood as it approaches release. For UK press…do not despair, we are at EGX as well this year, so we recommend you pop along to that. More details on the Political Animals Website, plus we are on facebook and Twitter as you would expect.