I'd like to set up a company one day which solved an inefficiency in the market for consumer services.
Right now, in the UK and most countries individual consumers enter into deals with utility suppliers to provide them with Electricity, maybe gas, water, and telephony / internet access. This involves setting up an account, deciding on a username/password, some bank details, picking a 'plan' and so on. We are widely told that the range of deals available means we should shop around and change our providers often. In practice few people do this. (I do, but I'm…different). What bugs me is not that few people do shop around, but that the process is so clunky and manual.
Now I'm not talking about 'making switching easier'. thats lame, and unambitious. I'm talking about making it automated. Not on a year-to-year basis, but on a second by second basis. Think less like a form-filling bureaucrat, and more like a high frequency trader.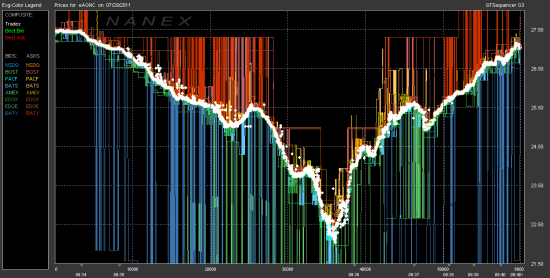 When I switch on my PC, and it draws current from the mains, I want there to be a super-fast auction, right then, in the exact same way banner-adverts are traded, where my AI agent that represents me haggles on the energy market to get me the extra power for the next few seconds. And I want it to keep haggling all the time I'm drawing power. I also want my taps (faucets to some of you) to do the same thing, and I want my telephone, broadband, everything to work the same way.
Of course, this works WAY better when we can defer demand. A smart fridge can, for example put in a  request for power to its compressor *some time in the next five minutes*, but not care exactly when. As a result, it should get a darned good deal. On the other hand, a hairdryer needs power RIGHT NOW, and at the other end of the spectrum, my fancy-pants electric car can charge *at some point in the next eight hours*. I don't care when.
This would make for a huge boost in energy efficiency. The demand curve of UK power would flatten out substantially, meaning less need for overcapacity to handle 'spikes'. It used to be the case that the definition of a UK power spike was either the adverts at the end of the TV show 'coronation street' or the end of the queens speech on Christmas day. Why? Because thats when about 10 million Brits switched on a 240volt 2,000 watt electric kettle. I'm not kidding. Apparently after the 'who shot Phil Mitchell' episode of EastEnders, power surged by 2.6 GW. As I type this, demand is 32GW in total.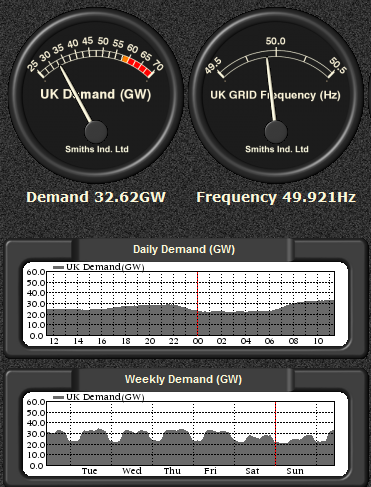 Anyway…what annoys me is not that we do not have this system in place (I understand it involves huge infrastructure investment and new appliances), but that we do not seem to be making ANY steps in that direction whatsoever. I have a big energy-guzzling car, which would be perfectly suited to negotiating a time to draw current with the power company, and yet there is, AFAIK, NO provider in the UK that even has a prototype for such a system. Why?
Sadly I expect this will never happen, and what we will end up is local co-operatives handling power management themselves. if I had a Tesla powerwall, I could save any excess from my solar panels, and either use it to charge my car, or to sell into a village-linked system to a neighbour. I suspect local systems like this, with a fraction of the potential savings are going to become commonplace before any of the big players in UK infrastructure take a step in this direction.