Sooo. this is a post about the feature in Gratuitous Space Battles 2 that lets you edit the design of your ships. The game is in beta now, and I'm getting people actually playing it properly, so I thought I'd talk a bit about this feature, and ask for some feedback.
Personally, I think this is one of the coolest things about the whole game. It's one thing to fight a battle with lots of cool looking ships in, but it's another to actually design you own and then send them into battle. For the seven year old me who first saw Star Wars at the movies, this is a dream come true. I can spend a lot of time tweaking the position of a radar, or pipe or fin or spinning widget on a space battleship. That's what life is all about.
For those currently without the game here is a screenshot so we are on the same page: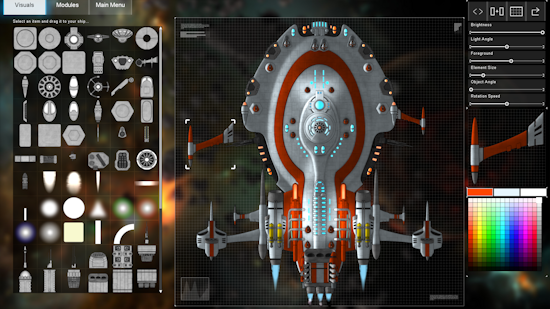 What I'm asking for is some feedback about how you find the editor. I know it has it's bugs. The composite creation stuff can lose Z-values, and I'll fix that soon. I know people also want a snap to center feature, and type able values. I guess I'm wondering how people are using it. Are you using the mouse wheel and shirt/ctrl to do the rotating and scaling? it's TONS easier and faster. Are you using the arrow keys to nudge items a set amount around the screen? Do you mirror items one at a time or design half the ship then drag select and mirror them all?
Do you think there are enough components? if not, what is missing? are you actually using the composite functionality much? I should point out today's incoming patch fixes a lot of issues, such as hiding unavailable color-tint layers, and fixing the rotation speed of objects being represented wrong. It also fixes loses your design by hitting the 'shouldn't-be-there' main menu button. I know people would like to place components 'under' the hull, which may be technically problematic, but I'll have to investigate.
I'm definitely looking forward to running a few 'who can design the best ship' competitions once the game is released, and I also look forward to one day having some free time and getting a chance to really play with this feature a bit more myself. Also…modders will hopefully use it a lot :D. In the meantime, pre-order the game to get access to the beta on PC right now…