"Reach for the stars, cause they're sweeter by far, than the moon, though she's brighter and closer to you…"
Lyrics from a song I listen to (bonus points for spotting whose), but also my attitude in recent years to my job. The whole idea of 'lone-wolf' indie game development is absurd on paper. Activision spent $70 million making COD:MW:2, and $130 million to market it. That's vs Me, in a spare bedroom.
I am doomed to fail.
Except somehow I don't fail, but keep going for years on end, even making a reasonable living from it. Clearly, fighting such impossible odds attracts a specific, maybe warped mindset. I'm glad to say that ever since I started work on GSB, I've had that mindset in spades. A lot of the reviews for GSB praise the visuals, saying it looks really good, and that's welcome, and very nice, but when I see it, it looks crap. it looks really cheap and badly done, and old school, and unconvincing. The reason I think like that, is rather than playing other indie games and comparing them to GSB, or other AAA games and comparing them to GSB, my point of comparison is Star Wars: Revenge of the Sith, or any other high quality movie special effects.
You might as well set your sights high…
One of the things I do when I want to improve the graphics is take a huge bunch of screengrabs from space battles on DVD like this: (I've got dozens of folders like this). This takes hours…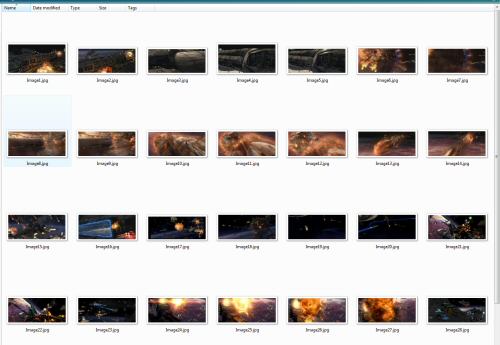 I then take a look at what those ILM visuals look like in a single frame, which is very helpful for designing visual effects in code. For example take a look at this freeze frame of a laser gun in Revenge Of the Sith, I find stuff like this fascinating.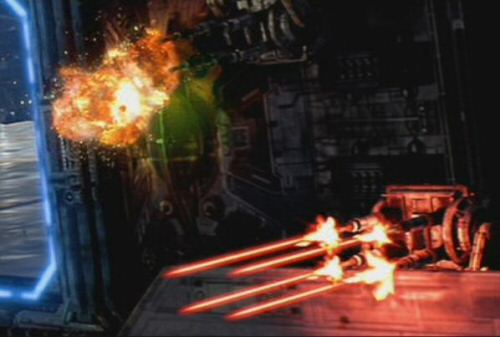 When I have time to improve the visuals again, I'll go through a lot of this and study in, and also zoom in and study GSB and work on making one look like the other. I had a number of false starts with the explosions and debris for GSB, and although it's better than it was at the start, I still need that stuff to be better still. Expect the game to keep getting better as long as it keeps selling.