This is the current challenge list screen (click to enlarge). It's not exactly an MMO quality on-line browser, but it's what there is right now, at this beta stage of the game. (BTW I'm aiming for pre+orders + beta for pre-order customers as of next Monday).
There are basically 3 types of challenge. Automatic ones, open to all, which get uploaded whenever you beat an AI fleet from the game (these come from 'auto'), open challenges where a player has posted up an open invite to beat their fleet (sent to 'all') or personal challenges sent to another GSB player by username.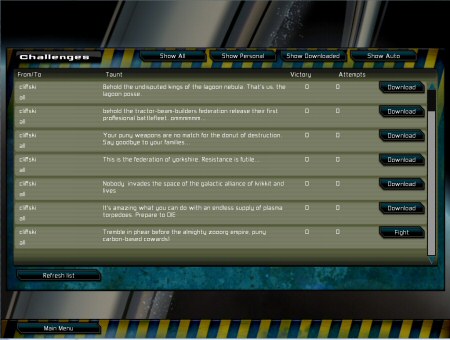 Only the target player will see personal challenges you upload. I'd imagine 90% of challenges people play will be the personal or 'all' ones, the auto ones are just there to ensure some challenge population is available. I will also be developing some kickass fleets for you all to lose against :D
The browser downloads a list of all the challenges, and you can then filter them using those top buttons. Every time you attempt to fight against a challenge, the 'Attempts' is incremented globally. Every time you beat a challenge, it's 'Victory' will go up. You click the download button to grab the challenge from the server and play against it. From then on, that challenge is a local downloaded one you can revisit easily.
I haven't done the code yet that means only one victory per challenge, per person can happen… must do that!
I must also add a button to only show *your* challenges, so you can check on how many attempts your fleet has had, and how many people have beaten it. Ideally there would be TONS of community based features like this, it really does depend how well the game does, and if people enjoy this sort of thing. The minute there are some pre-order buyers playing the game, I'll have a decent idea as to where to direct my energy in terms of development.
Thoughts?