So I recently released democracy 3 extremism, complete with it's lovely trailer…
And how is it doing? Well it's going ok. It isn't selling as well as social engineering, but that is to be expected, as it's the second DLC and these things always have declining sales as you do more. It's also very early days, and so far it's been 100% only for sale at full price, which is obviously to be expected as it's only a few days into being on sale.
Anyway, my stats (which are partial, not complete) show me that my current profit from the DLC is $3,901. It's probably higher than that, as I haven't updated it today. The reason that profit is quite low is I've been channeling a big big chunk of the income from it back into promotion. My facebook ad which looks like this: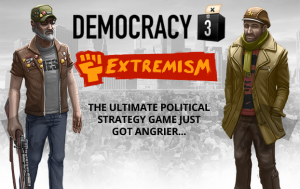 Is currently being shown at $600 a day, and has chalked up 1,291 clicks to the web page so far, at $0.49 a click. That doesn't include the visits to the facebook page, the extra facebook likes and of course anyone with anti-tracking or noscript turned on. $0.49 is a lot, but I am targeting men of a certain age (sorry ladies, but you just do not buy this game, according to my stats), with an interest in certain games, in certain countries, so it should be very targeted. My target demographic on facebook is 2,600,000, which I reckon is quite small, having shown the ad to 171,000 of them so far (6%). I'm running the ad for a few more days, so should hit about 25% of that demographic, but I may supplement it with another reddit ad placement too. (I've already spent $2,450 on reddit ads).
The result of this has also pushed sales of the base game. Extremism released on 13th may. if I look at Democracy 3 steam sales from 13-17th and compare to the previous week in the same days, the difference is a boost of 134%. This is something I should definitely take into account when calculating if the expansion is a success or not. This also means I have greater freedom to re-invest in the game. I've already propelled Democracy 3 into the top 50 strategy games on steam again. Might another $2k on ads push me up a few more places? and might that be self-sustaining? It might be worth basically spending the whole DLC profit in PR in order to promote base game sales (which in turn may eventually lead to more DLC sales).
Of course it's all guesswork, and tbh marketing and business is just a game I enjoy playing. I did start playing GalCiv III alpha, but its very very alpha (no space battles yet!) So I might just sit on that for a bit.