Democracy 3 has *some* support for different stances on what should be a nationalized/privatized industry, but I'd say not enough. Right now you can have State Schools, State Prisons, State Health Care and State pensions, or you can provide none of those and the private sector provides them instead (except to the very poor, who generally cannot afford them).
This is probably just a reaction to the situation where I live, in the UK. We have a national health system but optional private health care, and the same with all those other options, although AFAIK the prisons are all state run, at least in terms of overall management.
During my lifetime, a lot of old state enterprises in the UK got privatized. British Rail, British Gas, British telecom. They are now talking about the Royal Mail going the same way. I'm not going to argue the merits of the case here, that's too partisan :D, although I will say that the 'older' you are, the less likely you are to have a rosy view of the old nationalized rail and telecoms businesses. BT used to take MONTHS to set up a new phone line for you, and you had no other option. they even owned your physical phone, which was rented, and you had no options there either. It sucked.
Not that I can make much of a case for rail privatization being a resounding success, but YMMV. ANYWAY….
How can I incorporate more of this stuff into Democracy 3? Lets take an example of the banking industry. Assume you are playing the UK. Should 'nationalize the banks' be an option?  If so, what should the implications be? We could argue all day. Off the top of my head: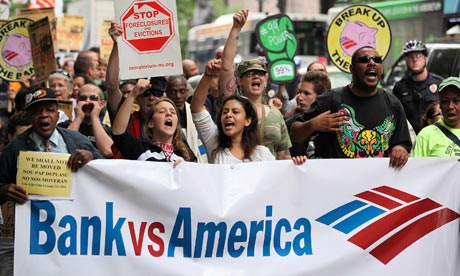 Reduction in poverty. As an instrument of the state, the bank can cut out punishing overdraft rates and fees for the poorest, whilst also ensuring everyone is approved for a basic bank account, whilst also out-competing loan-sharks and providing banking to the poor at a loss.
Reduction in GDP? (ooh -controversial). Traditionally, state-owned banks have a bad track-record of 'picking winners' when it comes to financing business loans. There would be a tendency to support failing businesses because they employ lots of voters in marginal voting areas, or are politically sensitive. The lack of a profit motive will skew the bank to make worse decisions and thus reduce the effective access to finance for private enterprise, reducing overall competitiveness?
Fury by capitalists. Suddenly the government controls access to finance. that must scare the hell out of hardcore capitalists, who might fear the next step is *their* business being taken over by the government?
Joy by Socialists. The reverse of above, Happiness that the financial sector now has a social element.
Unhappiness (maybe) of self-employed. Government departments are well known for their bureaucracy. they like dealing with big multinationals, not someone who works as a plumber. The sheer incompetence of the UK tax office is already evidence of this. the idea of them being the sole provider of banking should upset small business surely?
Huge Cost. Presumably existing bank shareholders will be the subject of compensation (I'm thinking consensus politics here, not a revolution with guns), which means the government pays out a good few hundred billion pounds (or trillion dollars) to buy up the banks. I'm thinking the net GDP impact here is negligible, as money people previously held in banking shares suddenly becomes cash, which presumably gets invested elsewhere on the stock market, meaning so sudden retail windfall?
The problem with Democracy 3 is you need to come up with policies and systems that are balanced, fun, understandable and also areas where there is at least some broad agreement as to the effects (if not the desirability). So I throw this out there. Does that sound like a reasonable reaction to nationalizing the banking system?
If I was to add this to the game, it would involve some coding, as it effectively means having a policy with a one-off implementation cost, and one-off cancellation income (privatize!), which the system doesn't currently support, but is certainly do-able…