November 19, 2010 | Filed under: business
0024
An idea as old as stonehenge, is that indie game developers should band together and start up an 'indie portal'. The idea goes to discussion, then argument, then an obsessive ranting over the topic of what is considered indie, and then devolves into a sort of kibbutz-style hippie-love-in where no decisions ever get made because everyone had to agree on everything, which never happens, because we are, as a tribe, very independent.
So after watching this spectacle about 100 times over the last decade, I decided that what was needed was someone to just bulldoze ahead like an egotistical dictator* and say "this is what we are doing, take it or leave it". I also thought that a full blown steam-style portal would never happen, so thought it best to start smaller. And this is how ShowMeTheGames got started.
Here is the website in question:
It was a domain name that was free, and reminds me of Jerry McGuire, which is, after all, a story of a guy quitting his corporate job to go indie…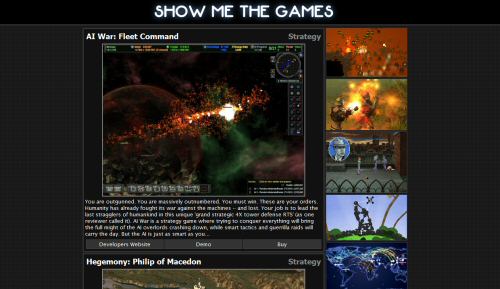 Now I know what you are thinking, "why haven't I heard about it then?" isn't it usual form for me to go on a publicity blitz? When am I going to punch Keith Vaz on live TV? The whole point of SMTG was to prove 2 basic concepts:
You can get almost 20 indie game developers to co-operate, and actually pay money into a mutual project
You can make advertising work for indie developers, it we club together. (this is why we tested it as an ad-driven site at first)
I think SMTG proves both, but you'd have to ask each contributor if its working to get an unbiased view. Basically, we have been running google ads that point to that page, on the basis that if you see an ad for defcon, come to SMTG, you might try out defcon, but you might also like GSB, or Smugglers IV or Castle Vox… That way, it's like having the advertising and catalog clout of a portal, yet we all still independent, all taking 100% of the sale price. The site is php and randomises the order of the games, so nobody has a better slot than anyone else.
I think there is some future in SMTG. We might start running competitions to win games, or have discount bundles of our stuff, or post up interviews and previews of new games. I just don't know yet. So far, it's just an experiment. One decent outcome from it so far is this:
If you are trying to explain to someone what an indie game is, you no longer have to point them at a single example or wave your arms saying "Stuff like World of Goo". Just point them to showmethegames.com, it has a whole bunch of the best indie games I could find. If you can find it in your heart to tweet a link to the site, hashtag #smtg, that would be awesome.
*can you guess who that was?