I've made good progress today and yesterday, despite distractions by Anno 1404, and being a bit ill. Here is a screen showing the new deployment layout. The UI needs polish, but this is how it looks.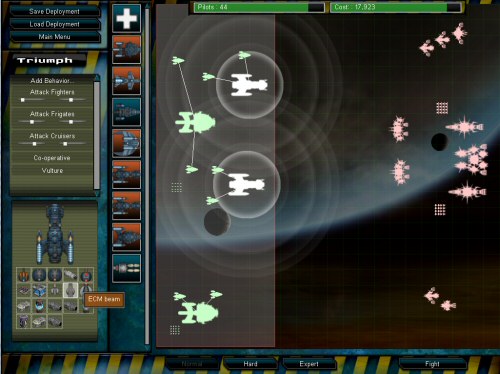 I've got proper selection and multiple ship AI-editing working now. This means you can drag select, or double click select (no shift-add select yet) a group of ships, and then add a new behaviour to them all (if the behavior exist, it doesn't matter) remove a behaviour, or edit the parameters of existing ones. This means that rubbish copy+paste stuff is gone, and you can edit groups of ships as you would expect to, including selecting a whole bunch and moving them as a group. The icon with a + on it creates a new ship design in the editor. I'm aware that it looks like a health icon, and I intend to redo it… I'll also move the 'main menu' button to bottom left where it clearly belongs.
Also, I'm reliably told that AI 'behaviours' sounds weird, and programmy. Does 'Orders' sound better? I suspect it does. It's only a GUI change.