I've been on the internet since 14,400 baud modems. I've had this blog for a stupid length of time. I was on facebook and twitter *fairly* early. I remember IRC, I remember ICQ, I remember AOL. I remember the sounds modems made. I remember usenet newsgroups, and excite, lycos and alta vista.
The internet has never been as inhospitable as it is now. Its never been this toxic, this abusive, this unusable. Yes, I include usenet and IRC in that.
Three of the people responsible are Jack Dorsey (twitter) Mark Zuckerberg (Facebook) and Evan Speigel (Snapchat). There are others. They are mostly identical copies of each other, showing laughably little diversity. The people behind all this are white, straight, male billionaires. Why do I mention this?
Because ironically, the white, male, straight billionaires have weaponized 'identity politics' and similar topics to make more and more and more money. They are well aware that the way our brains work funnel anger and fear directly to us before our reasoning system even kicks in (an evolutionary advantage, now turned against us). The BEST way to get people to keep communicating and 'engaging' is to use hatred and fear. Nothing else works so well.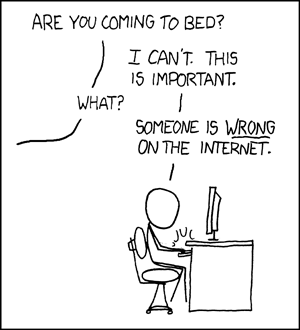 Social media's business model is based on ads, marketed to people who are 'engaged' and always on the site. What drives more ad impressions? hatred and fear, hatred and fear, hatred and fear.
Constructive debate doesn't sell newspapers and it doesn't sell ads either. Every time you get dragged into a heated online argument or hate mob, or get talked into retweeting some angry aggressive hashtag deriding people as communist scum, or fascist bastards, or white-supremacist racists, or what ever other extreme hyperbole we can dream up… you are being whipped into doing this to make 3 white male billionaires more money.
Identity politics and 'woke' politics is PERFECT for this. What could possibly cause more hatred, anger and fear than making sure everyone is pigeon-holed into smaller and smaller and smaller and more rigidly defined groups. That way more and more people are OUTSIDE your group. The best thing would be for you to cram hashtags into every post, to 'trigger' as many people as possible, and stick as many identity politics terms on your Facebook or twitter profile as possible, to annoy as many people as you can. Make sure you update your Facebook profile to signal the latest opinion on topic X. You CANNOT possibly be a fan of David Bowie without changing your profile pic when he died, otherwise how would other people KNOW you liked David Bowie! the horror! Quick! fill out your profile even more, do you like THIS album? did you watch THIS movie…

People are being railroaded and goaded into sticking their politics and their sexuality and their innermost thoughts right into the faces of EVERYONE they meet, so we can all form instant judgments and hate each other even more to keep those white male billionaires in yachts and private jets. Keep arguing kids! keep being angry! you don't know what people are angry about TODAY? oh my god…here is WHATS TRENDING NOW. (almost certainly not really whats 'trending', but what creates the most 'engagement', meaning anger, meaning ad revenue…).
Fuck it, I'm done playing this game. This year I left a mailing list for games dev I've been in for year. I closed my account at a forum I've been on for decades. I deleted 20 years of posts on one private forum. yesterday I nuked 75% of my facebook 'friends'. I don't fucking care if you are angry at Donald trump or Jeremy Corbyn, or you support the first amendment, or the second amendment, or you are white or black, or gay/str8/cis/nonbinary whatever.
Frankly unless I want to have sex with you what the fuck do I care about your sexual preference? Unless we are picking a restaurant together what the fuck do I care about your diet? Can't we just get along without sticking ourselves in these stupid-as-fuck boxes? I don't know if my next door neighbor is gay or straight or bi, or whether they support legalizing drugs, or if they voted conservative. We get along fine, it hasn't come up, why WOULD it come up?
I'm keeping my blog. I may blog more and tweet less. I own this blog, its on my server, I can moderate and delete comments by abusive people, and only people who know me/my games read it, which is fine. I see little value in having arguments with random maniacs on the internet. I'm also keeping twitter because I find it occasionally quite funny, but I plan to tweet way less.
I'm less angry in person than online. SO many times I meet people and they tell me I'm not what 'they expected'. Social media enrages us all, weaponizes us all to spread lies, fake news and the more extreme opinions as possible. Its bullshit and we should all do our best to stop dancing to the tune of three white male str8 billionaires who don't care how much damage they do.