We are still working away on Democracy 4…although I have not blogged about it much. This is partly because Jeff is doing a lot of 'under-the-hood' debugging and GUI support stuff, so there has not been that much to show for it yet. Unlike many sequels we are doing this GUI first and Mechanics / Content second, so for a while, it will look like a beautifully re-skinned democracy 3, until we start adding all the new events and policies etc.
Anyway… I sometimes forget how much slicker and cleaner the new UI is because I stare at it a lot, but here is a side by side comparison of the electioneering 'perceptions screen' for both games: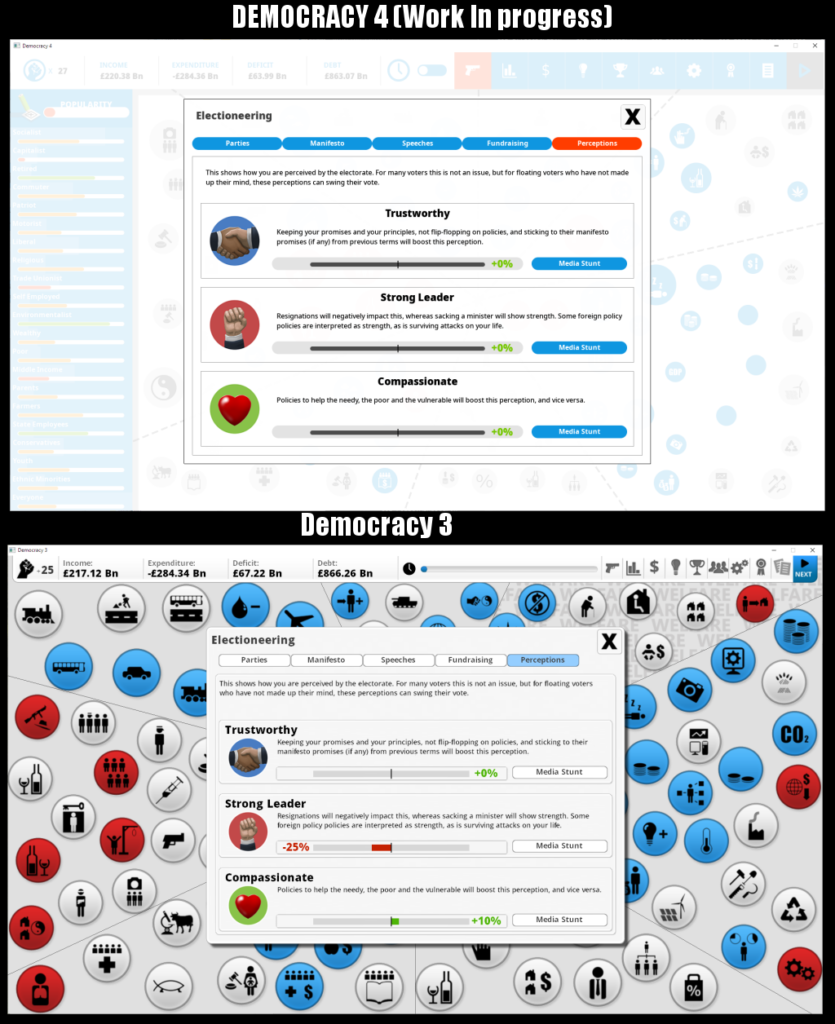 (BTW we likely will not use those same Democracy 3 icons for those 3 things, they are placeholder).
Re-sized screenshots do not do the GUI justice really, because its vector based and super-super-crisp. I do think that having a proper UI style guide, and vector graphics is going to make the new version feel SO much nicer to use. The previous game is from 2013 and starting to look like it…
There will be a lot more updates to come once we start putting in the new events. We just ordered all of the event graphics (and there are 95 of them this time, for even more actual events) and I'm looking forward to blogging about the new stuff we are adding.
Oh and in case you didn't realize from the above screenshot, ALL of the content from Social Engineering, Extremism, Clones & Drones and Electioneering will ship in Democracy 4 as standard.