YES! We are working hard on this, although its been mostly under-the-hood tech and background stuff so I haven't been updating people much on progress because there has not been *that much* we wanted to show yet, but that is going to be changing a lot real soon…
So, for those in the dark about this, Democracy 4 is the upcoming sequel to Democracy 3 (what a shock!) which is positech's best selling game so far. Its a politics strategy game where you play the role of President/Prime Minister of a real world country and have to keep the economy in decent shape while staying popular enough to be re-elected, AND presumably helping change the country for the better (in your opinion :D).
For people who have never played the original games, the user-interface is unusual because its basically just a complex connecting web of icons. here is a screenshot from the main screen in Democracy 3: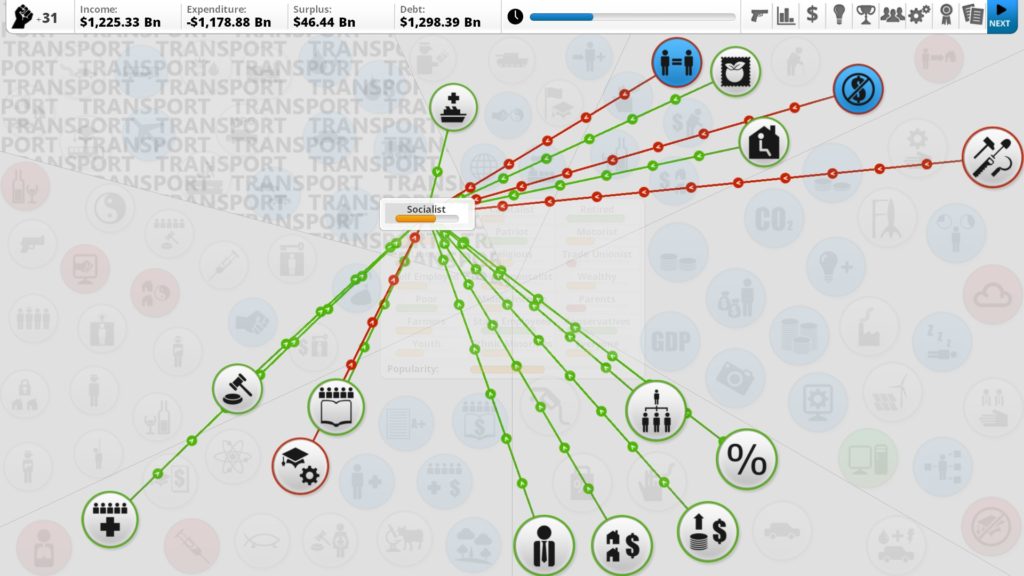 And here is the current (work-in-progress) equivalent for Democracy 4: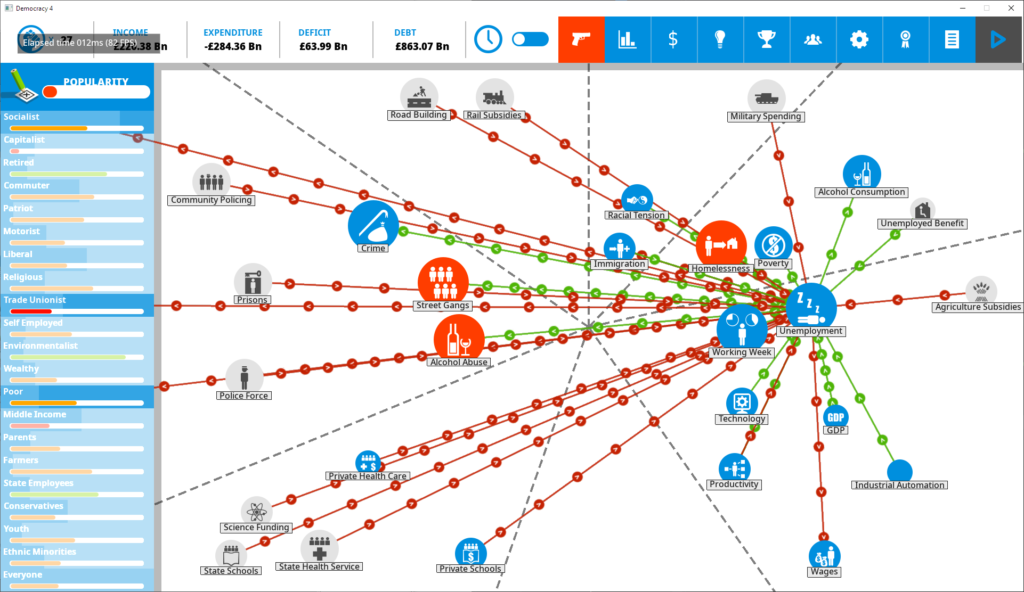 Obviously the general style, fonts and so-on have all changed, but also we have moved the voter groups from the middle to the left. This gives us some interesting options, because this is now a list that can be (at the players discretion perhaps) sorted by popularity, or by membership, or any other metric. Or sorted alphabetically even, none of which were options in the old UI.
its really hard to see in a static screenshot, but the big under-the-hood changes for D4 are that its unicode from the very start (hello Russian and Chinese!), and also most of the UI is being done with vector-art rendering, meaning everything is pixel perfect regardless of screen resolution or zooming/scaling. For a game that is mostly UI, this makes a BIG difference. basically no more blurry UI elements anywhere :D. Its also cross platform from the start.
So far we are still at the 'getting the core engine working right' stage along with the 'commission loads of art' stage, so although a lot has been done, there is not a LOT that we want to show you in terms of new events, policies or situations yet. However, that will be coming soon. We already have a bunch of new ministers and voters…

Once we are putting in new simulation content, I'll start doing regular blogs (probably video ones too) that detail the progress made on the game. I'd love to be able to tell you an exact date for us to go early-alpha (likely direct sales), Early-Access beta and final release, but I just cant be sure about those dates just yet. Obviously I'm well aware that 2020 is a US election year and we want to be coming out before the election :D Stay tuned for more updates etc, you can follow me on twitter, or join our mailing list (see sidebar) if you don't want to miss anything.