At the time of writing, a quick check of stats on steamspy for player unknown:battlegrounds reveals this chart: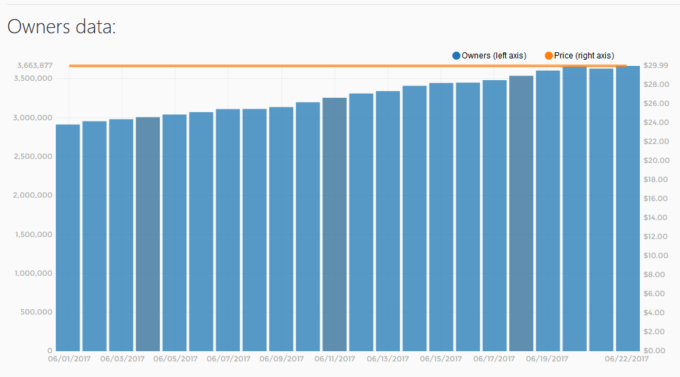 A very basic analysis suggests 500,000 copies this month, at $30, minus maybe 40% for refunds/taxes/steams cut gives us:  roughly $9million this month. Total sales stand at 3 million, for a total estimate of $53 million so far since release 3 months ago. Assuming a lifetime doubling of that 9conservative) that gives us about $100,000,000. income.
The developer is listed as bluehole inc, who apparently have about 90 staff: https://en.wikipedia.org/wiki/PlayerUnknown%27s_Battlegrounds
So the average income per employee there is a million dollars. original team size was 35, so assume that half the money goes to equity holders and its split equally between the 35, that gives them roughly $1.4 million each. In practice thats bollocks, because more likely 80% would be going to the equity holders and I'd guess 90% of that belongs to maybe a handful, at best 4 people? (I have ZERO idea, this is my guesswork), which means company founders are probably getting about $22 million from the game. Include sequels, potential DLC, merchandise and so on, and you can probably round it up to 25 million.
Thats a fuck-ton of cash.
But the problem is, the chances of Joe Indie game developer achieving this are close enough to zero as makes no difference.  There are 348 pages of 'top sellers' on indie games on steam. Taking the mid point, and looking at the top game (I wont pick on it publicly, so lets not name it). Its an RPG with Zombies in apparently (that shouldn't narrow it much :D). Steamspy says…. *drumroll*
3,500 owners. Top price has been $9.99, been out 9 months. Maximum conceivable income is $20,979 to the developer. In practice, as its been on sale, lets multiply that by 50% and get about $10,000.
This game isn't exactly World Of Warcraft but it has a proper 3D graphics thing going on, positive reviews and a decent capsule graphic. lets depress ourselves with the numbers:
Assume the developer is a single person with no other costs and keeps all the money: $10,000 a year, or roughly 1% of the revenue/employee as PU:BG.
Assume they are the founders/owners/creators and keep all that sweet cash, they earned roughly 0.04% of the equiv person behind PU:BG.
Yes…these figures are very very rough, but I didn't deliberately pick something bad, in fact I picked half way through the indie top sellers. Are we really thinking they sound so out of whack? This is a WINNER TAKES ALL market. You are either in the top 0.1% of indie game developers, or you are unemployed, with an expensive hobby where you make effectively free games.
This is nobodies 'fault'. Steam didn't cause it, Unity didn't cause it. games got easier to make, and more people got access to PCs, development kits, computer skills and broadband. Its really no different from waiting tables whilst pretending to be an actress, or avoiding admitting you are unemployed by claiming to be a writer. There is virtually nothing I can do about this, and nothing you can do about this, but there is something we can collectively do to at least minimize the collateral damage:
Lets admit that the default position for an indie game developer is pretty much poverty. If you want to make money, maybe one day buy a house, start a family, have a pension, why are you making indie games? You KNOW you are almost certainly screwed right? or to put it another, simpler, TL;DR way:
YOUR INDIE GAME WILL FLOP AND YOU WILL LOSE MONEY
Now, *some* people don't flop, and do well. And that *might* be you, but I urge you, go into this job (like any other) with your eyes WIDE open. Your chances of success are incredibly, incredibly small. This is not a sensible career. This is not a wise career move. This is almost certainly personal financial suicide. You may (like me) feel compelled to make games regardless of success or failure, but ALWAYS know the odds. ALWAYS. (Han solo is wrong about his topic). I know people get inspired to make games by reading about the success of some developers (including me), and that's great, but always know what you are doing. Do not remortgage your house to do this. Do not both quit your job and live off savings to do this when you have kids to support. Do not assume you are different or special.
Treat this as a disclaimer for my blog: You are reading the thoughts of a guy who was coding since age 11, has 36 years coding experience, has shipped over a dozen games, several of which made millions of dollars, got into indie dev VERY early, knows a lot of industry people, and has a relatively high public profile. And still almost NOBODY covered my latest game (in terms of gaming websites). Its extremely, extremely tough right now.