I have DATA to prove it! For people new to my blog, this is because I'm the developer of Democracy 3, a political strategy game where you play the role of president/prime minister and do what you can to change the country for the better and also stay in power. Its a deep complex strategy game, and also an interesting social experiment because it makes people question their own beliefs, make tough decisions, and often learn to compromise.
One of the interesting aspects of the game is that people almost always play with their own beliefs and morals and attitudes, and are determined to prove that they are 'right'. The game can be 'won' (insomuch as another term in office is considered winning) with any strategy, you can get re-elected as a socialist, a capitalist, a conservative / liberal / religious extremist…it all depends how carefully you play. The game has a built-in 'political compass' that plots your election victories so you can see where you were on the capitalist/socialist spectrum and the liberal/conservative spectrum when you win an election. It also shows you the same position for your steam friends (if you opt in to that).
This means that there are two big global 'leaderboards' (in the loosest sense) showing every players average position on both those spectra. And harvesting that data and sticking it into a graph gives an interesting picture of how players of Democracy 3 fit into the political compass. First the raw data: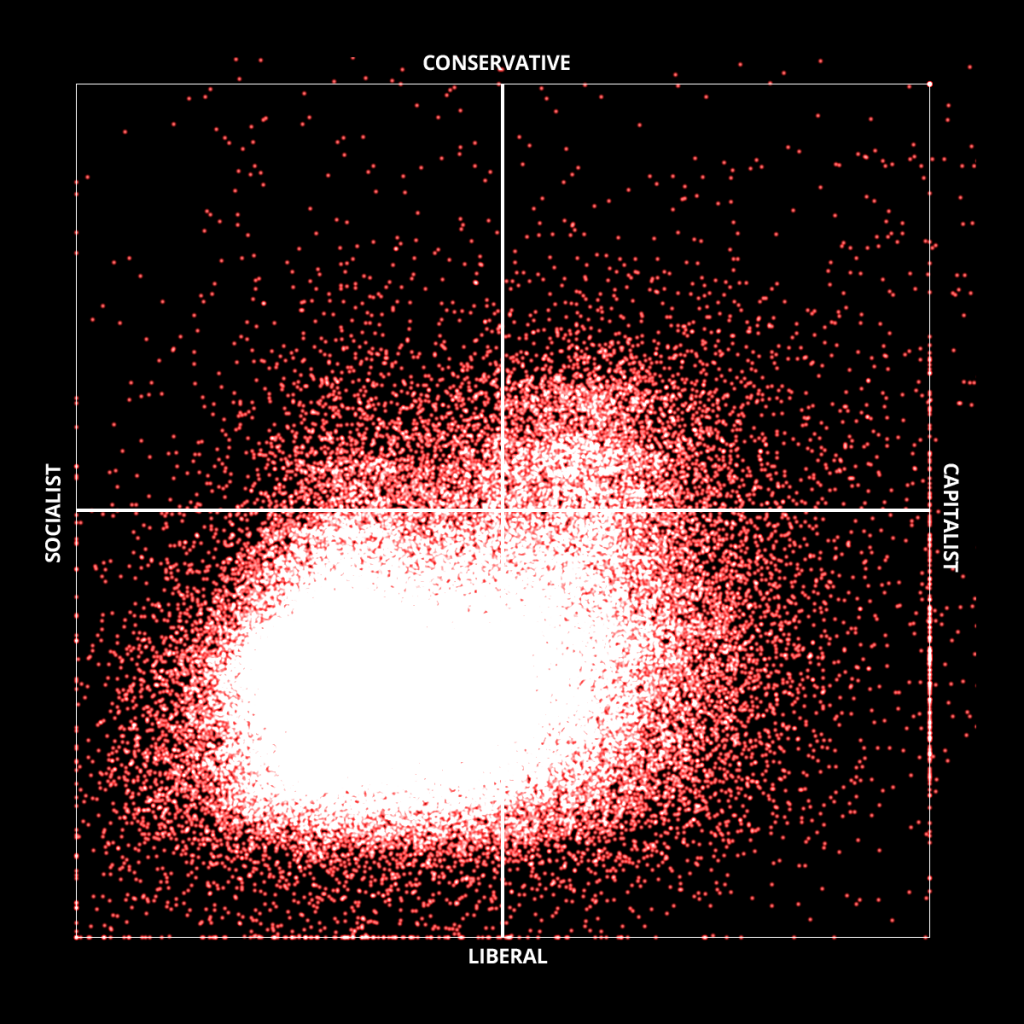 its probably not much of a surprise to see a concentration  in the bottom left. Game players are probably on average younger than the average voter, and younger people tend to be both more left wing, and more liberal. it is kind of amazing how many people have tested the limits and somehow burst out of the range entirely on the right and the conservative scale. I can't imagine what their countries were like on election night :D.
Fading the data so we can see a bit more into the detail of that big blob gives us this next image. it looks like people are more rigidly liberal than they are socialist with plenty of people shifting towards the middle ground on the left/right spectrum.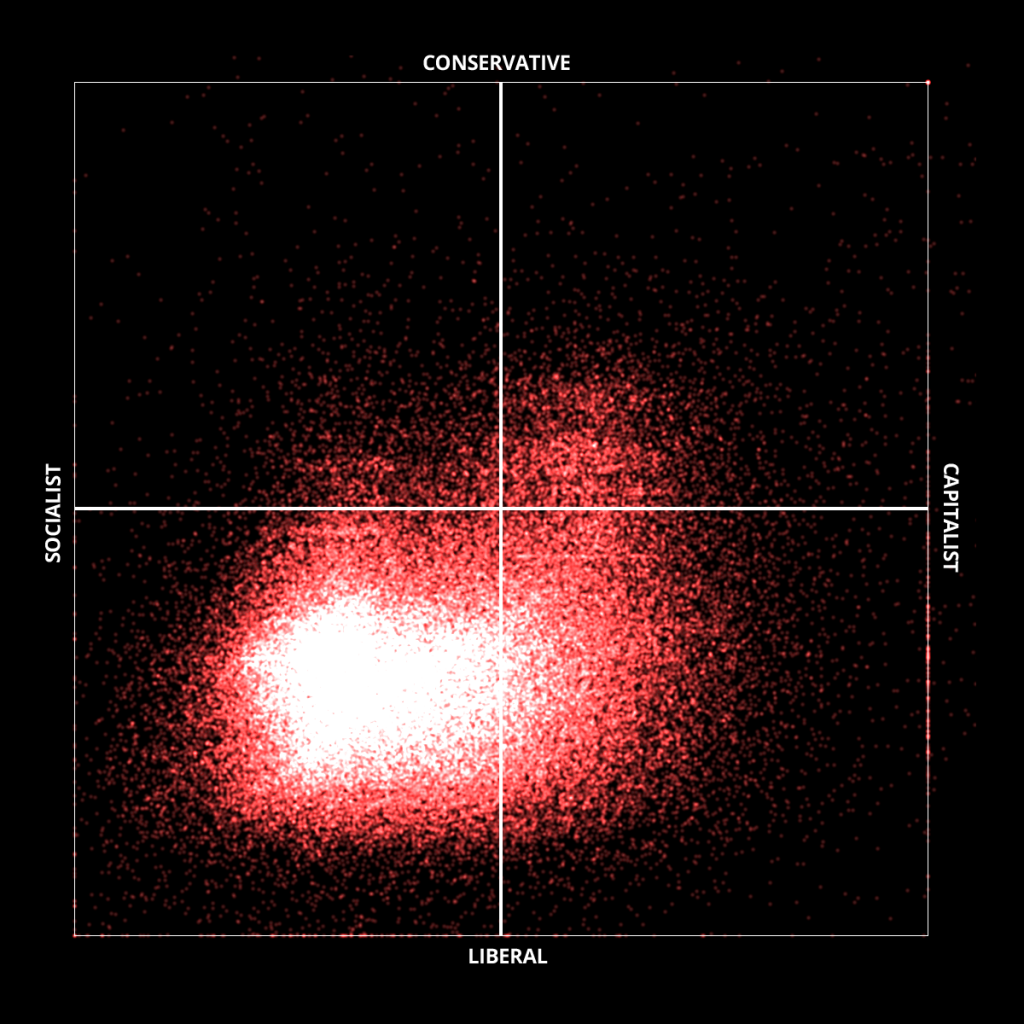 Blurring yet again gives us this… funny to see a feint diagonal line emerging there. I honestly have no idea where that is coming from.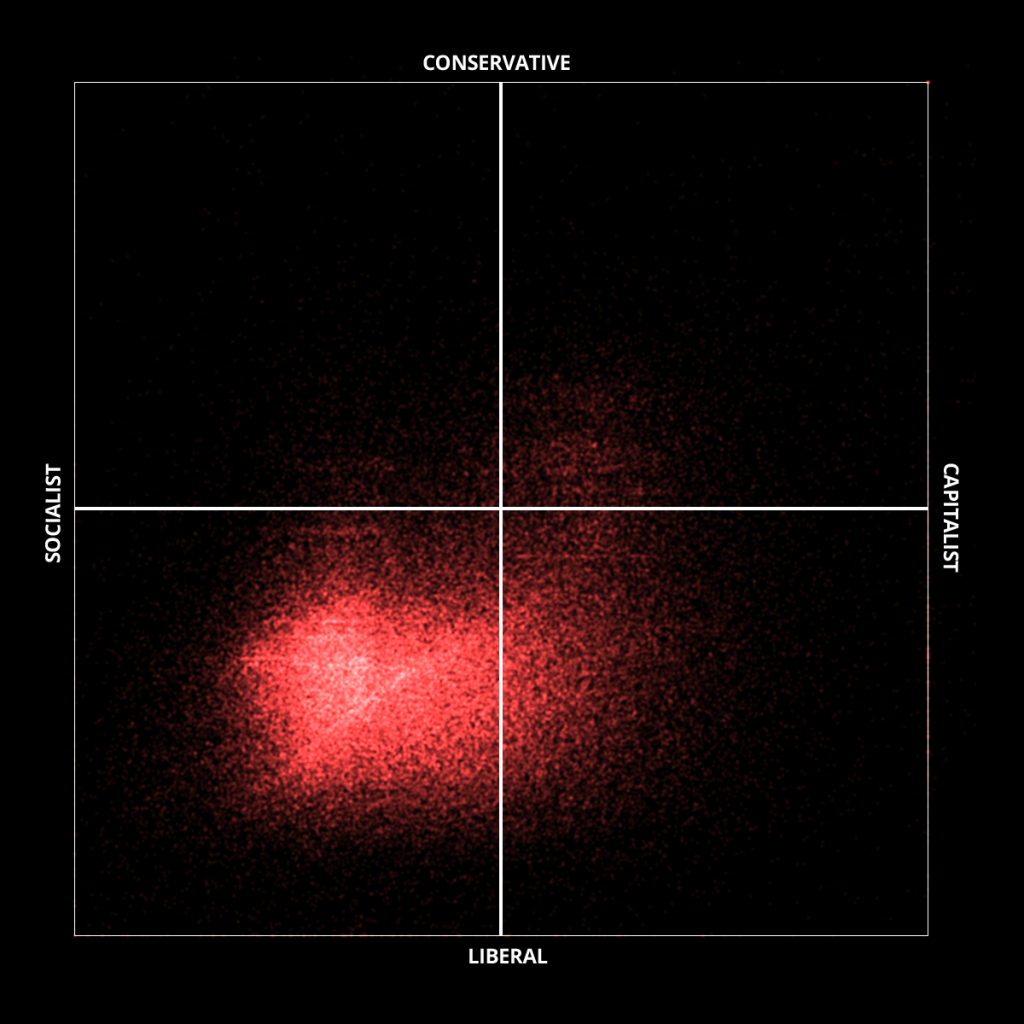 (Obviously disclaimers apply. Some people may claim its easier to 'win' in the game with certain policies, people playing the GoG version have the compass disabled, its only working for people with steam who have not disabled the compass, and only for people who play through to an election victory.) So there you have it, 2015 PC gamer politics in a nutshell :D