August 14, 2015 | Filed under: business
008
I saw the merchant of Venice yesterday. Weirdly I sided hugely with Shylock. Granted his terms were onerous, but I had no sympathy for Antonio, who frankly sucked as a businessman, and should have read risk management for dummies. I suspect the play wasn't intended as a treatise on maritime risk management strategy, but thats how my mind works. YMMV. Anyway… There is a proper point here about indie games.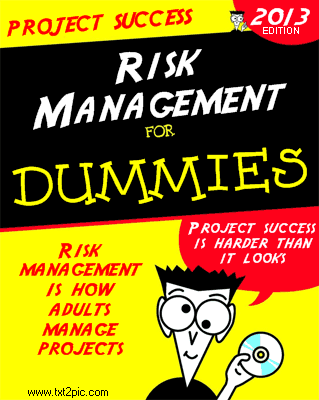 People complain there are far too many indie games being released for the actual number of games bought, and I guess there kinda are. I think the bigger problem is that the results of shipping those games are less of a bell curve (in terms of return on investment, which is what people seem to expect…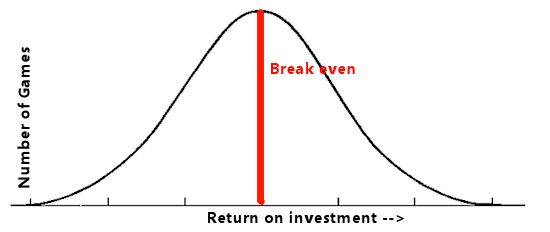 …and more of a hit driven model like this: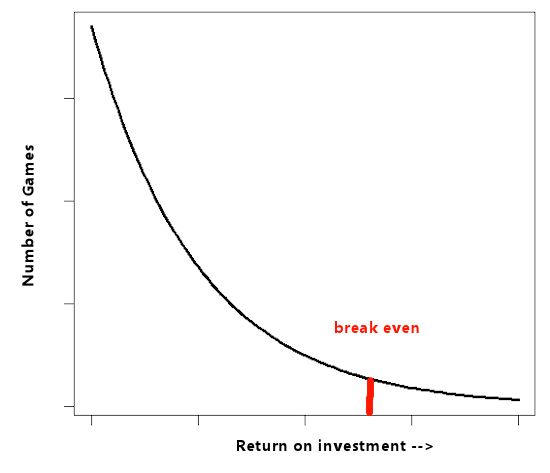 Which means that the number of indie games that are 'failing' in terms of not returning a proper ROI (normal profit) and thus building self-sustaining businesses is really big. People assume that a lot of games will break even, but in actual fact, I suspect the vast majority lose money, a few 'break even' and a few are mega mega hits. There is some great writing on this topic here.
This is a problem because what it means is, we miss out on great games. Why? Because we should start with the assumption that peoples first few games suck. On average. Some people get lucky and their first game is awesome, but lets say your chances of having a smash-success game are roughly one in ten. Lets also assume that you can basically have only a few flops before you have to give up and get a job in a bank.
Now in a more even distribution of success, a lot of people will have a track record that goes something like this:
Flop, Almost-break even, Mild success!, Flop, break-even, Mild-success, Flop.
And you can just about eek out a living doing that. Eventually you might have a hit. With my own history it looked like this:
Star Miner (flop) Starlies Inc (Mild success) Rocky Racers (flop) Kombat Kars (flop) Kudos (Mild success) Democracy (hit!).
The trouble is, with the current hit-driven system its basically this:
Flop, Flop,Flop,Flop,Flop, *Get a proper job here*.
Because so many games are not hits, and production values are now driven so high, the risk associated with 'hanging in there' until you get your hit is very high. Lets say each indie game costs you a minimum of $150,000 to make, including your food & housing as you code away on it. To get that hit at game number 10 is going to cost you $1,500,000. Granted, the hit may then earn you $2,000,000, and you *win*, but who has $1,500,000 ready to gamble?
This is a classic economic problem. Its solved for farmers (with unpredictable harvests) by the futures market in commodities./ Some years the commodity traders lose, some they win, but they hedge their bets over multiple commodities over multiple farmers. The security for the farmer is higher. In Silicon valley, you have 'accelerators' where a VC will throw small amounts of money at ten developers with ten apps, hoping one hits it big. Peter Thiel; says never to invest in anything that can not potentially pay for the losses on every other investment you make. In the example above, they invest $1,500,000 and get $2,000,000, a very good ROI.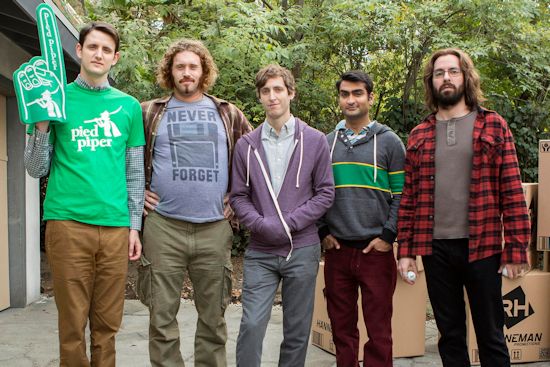 Basically this is indie fund. And the unofficial equivalents that have spawned elsewhere. I do it a bit myself. I fund Big Pharma, and spread my risk between BP and GSB2. I also am funding 2 unannounced games, so my risk is currently spread over 4 titles. The thing is, with just one investor (me) and four titles, there is still considerable risk. What is really needed is a lot of investors and a lot of titles. Basically kickstarter, but with actual proper investments. In some ways, I'm talking about a hedge fund. Is there a market for this? And is the ideal system one with wealthy individuals investing $100k each, or thousands of gamers/savers investing $100 each, acting as a sort of 'greenlight-but-with-investment' model? Is it regulatory hassle that has prevented people crowdsourcing investment? It already kinda happens in the UK with sites like funding circle. (Although thats business loans, not actual shareholder investment) Why not a game-specific version?