Sooo…
On my list of stuff I think looks not good enough, for me to improve when I am ahead of schdule and 'treating myself', is the black smoke clouds left behind when ships explode (mainly cruisers). They always looked a bit poor, and were just a handful of big sprites that rotated and faded in and out.
I've spent a good few hours investigating techniques and ideas and ended up with this: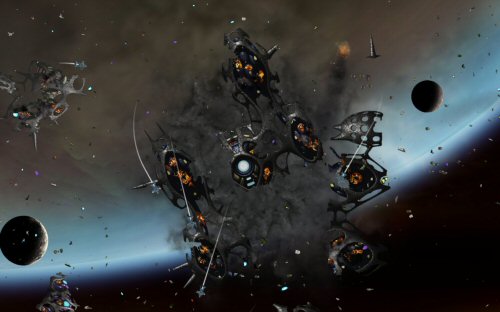 Looks better in motion. Despite a lot of reading about fluid dynamics and mega-particles and other stuff, I ended up just using spinning sprites again, but this time with tons of refinements, in terms of different sizes, generation delays, greater sprite contrasts, and using sine waves to control spin speed degradation, sprite size growth and also now have 2 distinct groups of them in different size distributions.
I also experimented splitting them into layers so ships could fly through the smoke, underneath half of it, but it looked a bit wishy washy so I junked it. There is some extra fillrate involved in doing this, but I don't think GSB is maxxing out many video cards right now, and this does look better to my eye.
Also, retreating now works 100% in the campaign game. Just need to have a visual retreat countdown timer and some tutorial hints for it now.