Some of the things you buy in Kudos 2 have ongoing effects that happen every day (like the newspaper its assumed you read, or owning a fast car or a pet). Some have effects that happen only when you use them (like weights or a chess set). And some have one-off purchase-time effects (like a fashionable outfit).
The problem with the ongoing daily effects is the player had no way of knowing what they are, so I've spent a big chunk of this morning coding this sort of thing so they can see them: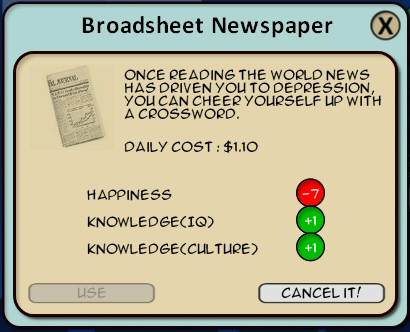 It's amazing how long it takes to code something like that and ensure it a) works, b) looks nice and c) is bug free. It also exposes a efw other minor niggles that then needed fixing. Oh well, slow but steady progress!