November 14, 2015 | Filed under: school
002
Ok here is some *good* news. And its about Africa, but no, not Democracy 3, it's about that school Positech is funding in Cameroon. I just got an email from the charity handling it, and more details are to come soon, but the school is 95% finished, they have had an opening ceremony, it was in the local paper, on radio even on local TV. I'm looking forward to seeing snippets of all that soon, but in the meantime, I have two pictures that have been sent from the agonizingly slow internet connection in Cameroon. First, here are the children about to sing the national anthem in front of the old school… (old school at back on the right)…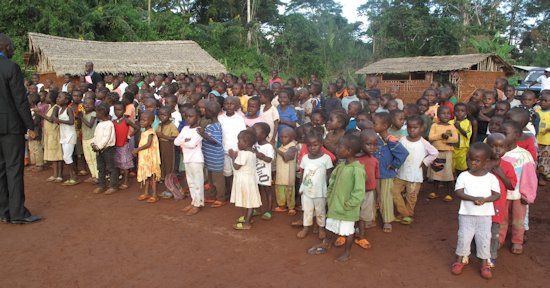 And here is the representative of the charity being photographed in front of the shiny shiny new modern school, that we funded. Yay :D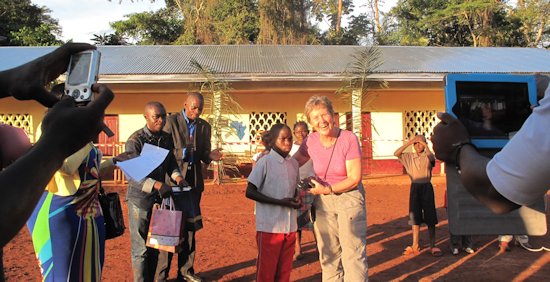 This is so awesome. My first response when seeing the pics was, wow, thats a lot of children, but when you think it has 3 classrooms, I guess thats probably right, they don't have tiny class sizes out there anyway, so its to be expected, but its still kind of amazing to think you can boost the education of so many people when you are just some middle aged dude typing in his home-office. It's not like I had to put on a benefit concert or spend years knocking on doors. And the new school looks BIG and really cool.
I can totally understand why people who do stuff like this want to fly out there and strut about in the school. Its 100% natural. I would love to see it, love to actually be there, and be able to understand in that basic primitive way that I have really helped to do this, by touching the walls and seeing the children in lessons. That temptation is huge, but I fight it because 1) I try not to fly too much and 2) shouldn't that potential air-fare money go to better use?
Maybe one day I'll give in and do it anyway :D
Expect another post when I have video and more photos! For those curious about this click the 'schools' category on this blog post to see earlier posts about the school, where it is, what it cost etc.