July 18, 2014 | Filed under: business
005
There is some twitter discussion about this:
http://www.bbc.co.uk/news/technology-28363729
With controversy about this:
The Commission said: "These include not using the word "free" at all when games contain in-app purchases,"
I fully support this. I think we have an absolute basteridsation of the word free, and that governments should regulate the hell out of it. There are various books on the topic of how the word 'free' sets off all kinds of triggers in our brains that 'very very very cheap' is nowhere close to. It seems we respond overwhelmingly positive to 'free' and ignore all the caveats and disclaimers around it. Basically a 'free to play' game is BETTER to our subconscious than a game that is not 'free'.
But come on, you and I both know F2P games are anything BUT free. They are designed to get as many people as possible (but realistically not all) to pay for 'upgrades' and 'customisations' and 'conveniences' within the game. The business model depends on the game experience being dissatisfying to the extent that you pay to skip bits you don't like, or improve things you are unhappy with. Why give the player 100 unlock points per battle when you can give them just 5, and charge $1 for 100 unlock 'gems' instead? Cynical, cynical bullshit…
The trouble is, this WORKS. it works well. It works in the way cunning modern advertising works, it plays to tricks in our brain, and the way we are easily fooled, lured, confused and misdirected. We are not vulcans, but massively irrational animals who are at the mercy of our primitive subconscious desires and pattern matching. The idea that any of our purchasing decisions are rational is a joke, and the idea that we are not being manipulated by cynical F2P business models is a joke too. It's perfectly understandable that so many of these F2p companies employ pyschologists. They aren't there to make the game fun, they are there to make you spend money. Lots of it.
This isn't new. There were scandals many years ago about subliminal techniques in advertising, and advertys are regulated to prevent the blatant techniques that some ad agencies would like to use. The trouble is, it's difficult to 'rule' on these topics, because it's all open to interpretation. For example, is this an advert for a sandwich…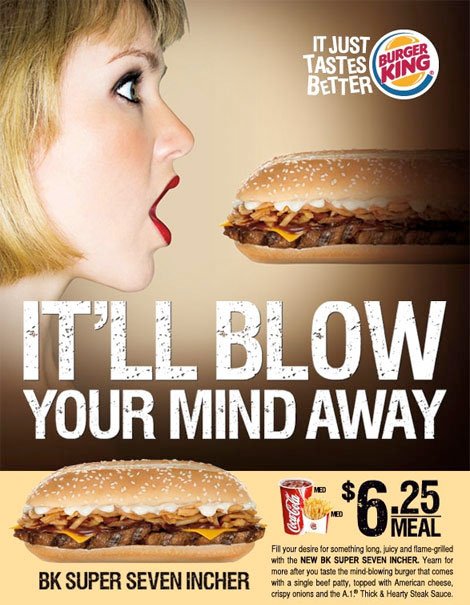 Or is it a pretty obvious, and crude and blatant comparison to oral sex? Now prove that in court…
The difference between 'fuzzy' issues like that, and F2P games using dodgy practices is that it's pretty easy to regulate F2P to curb it's worst excesses. For example, if a game actively prompts the player to purchase add-ons within the game, than I don't think it's fair to call the game 'free'. No game should allow you to purchase more than ten times in a day, or more than some limit per week, and above a certain amount, they absolutely should ask you to re-enter your password, or confirm that you know you have spent $1,000 on gems this week.
Some people are addicted to alcohol, even though most of us aren't, so we as a society tolerate warnings on advertising and branding pointing out the dangers, and in the UK we ban drinks ads in many environments. The same is true of Gambling. Most people who drink, or bet are not addicts, but we place curbs and restrictions on those activities because we know to some people they are VERY addictive.
Alcohol makers and Betting shops got lucky, they happened to create a product that was already addictive to us. People who employ psychologists for their F2P game are Actively and KNOWINGLY working to generate addiction in their customers so as to milk them as much as possible. Profiting from selling games is fine. Knowingly creating a marketplace full of addict by using psychological tricks is not an entertainment industry I want to be associated with. Legislate the crap out of them.