November 01, 2018 | Filed under: business
003
Its not long ago that Discord famously launched their new store, which a lot of people I know got very excited about and predicted big things for. I have not heard any tales of epic riches yet, and not read much news about it since launch, so I'm assuming its not yet setting the world on fire.
Today its the turn of Kongregate with their 'Kartridge' store: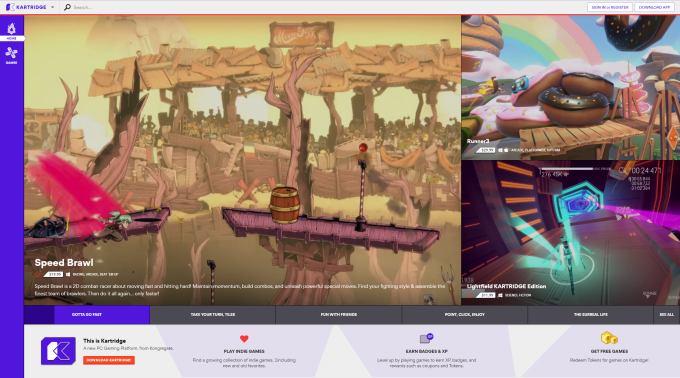 This one is infinitely better because it sells 3 amazing games that I was involved with somehow. Those are Production Line, Shadowhand and Big Pharma. Kongregate still have that slight 'amateur hobbyist' thing going on because those games show as made by 'cliffski' which is my username, but really should list developer/publisher if they want proper 'triple I' games to flock to the store maybe?
As ever the big elephant in the room is epic, and why did they raise 1.5 billion dollars recently. Are they going to launch their own store? I suspect they are, but few people seem to agree with me. They certainly have the money, and they more importantly have a big name game that EVERYBODY plays called 'fortnite'. Don't forget everybody thought steam would die on launch and were outraged to find it as the only place to get half Life 2, which arguably is the only reason the site ever got any initial traction. Epic are clever, maybe they realise this and have been stockpiling money and plans for a store until they had the 'must have' game to ensure its success?
I think what everybody gets wrong about this stuff is they 'dip their toe in the water', rather than going bananas and adopting a 'VICTORY OR DEATH' approach to the new venture. Even Kongregates home page has just a standard wrap skin about their site today: https://www.kongregate.com/ which quickly rotates to a banner about 'just another game on the site'. The same is true of discord, I don't exactly feel like they are absolutely killing themselves to make me use their store, or even inform me whats on it. This seems way, way too meek a strategy to take on a massive established and popular competitor (steam).
I'm a big fan of Tesla and Elon Musk, and I believe the company to be the most important company on earth right now (due to their rapid push to shift us off fossil fuel dependence that is actually killing off our ecosystem and ensuring we will all die…), but even ignoring their 'mission' you have to admire the way the company pushes full-tilt, 100% into achieving things with seemingly the force of a nuclear explosion. Any other company would have happily sold high priced model S and X cars, and maybe invested any profits into eventually expanding into making slightly cheaper cars. Tesla has a single quarter of profitability, then immediately borrows and dilutes like crazy to raise a tra-zillion dollars to build the largest factory on the planet to go full tilt into mass-market car production. They *might fail* (although as of last month it looks increasingly unlikely), but nobody can ever, ever accuse them of not really going for it.
I don't know what will happen to Kongregate. I think their store has a better chance than most, and I doubt it will actually fail. As to whether it will take noticeable market share from steam…thats even harder to know. Maybe one day these stores will start to compete for the top devs listings by reducing their royalty take?