…So I ended up concluding that rolling those two bits of GUI together was not unanimously a good idea, but I think changing the car design one so those horizontal tabs became left hand side list items is a bit of a no-brainer so I did that: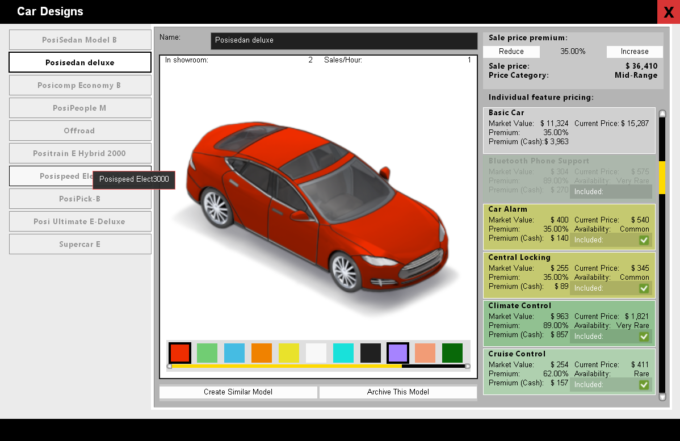 I'm currently working on supporting toggling slot upgrades to be on or off, to allow more player control. I'm in a bit of a 'usability' mode where I'm making the game easier to use, and more welcoming, because its easy to get caught up into an Early-Access vortex where all you think about is expanding the game for people who already know how to play it.
However, that doesn't mean that I am *not* planning a lot of expansion. I have some more music on order (yay!) and am getting all those untranslated strings sorted so that its a smooth translated experience in French, German and Spanish. I've also got some more artwork coming probably in the new year, for stuff like making your own air bags, some new machinery to make slots more distinctive, new animations, and some components like chrome and wood to make plush luxury interiors (plus cabin lighting!).
Basically Production line seems to be going quite well, which is just as well as I have lots of other stuff making demands on my time, mostly Shadowhand and Democracy 3 unicode. We have some teething problems with the windows build of Democracy 3 unicode, in that some fonts are not displaying right. We are aware of this and desperately trying to fix it ASAP, although the earlier build is now available as a steam beta option. We already have some thumbs up reviews in Chinese, which I take as a good sign, and hope to have an official press-release about Chinese Democracy soon :D
Shadowhand has been announced to the world recently, and will ship on the 7th December on Steam, GoG and the Humble store (oops…must set that up…) We have been promoting the game a bit on youtube, reddit and facebook, and our wishlists are thundering higher and higher. The more I play the game, and read peoples comments on it, the more confident I am that its going to do well. If you are wondering what I'm on about, you should go check out the game from the link below…