Can it be true? sí se puede! (blame google for this). We have a new update for Big Pharma and it now has Spanish Language support (Translated properly, not by google :D). Woohoo!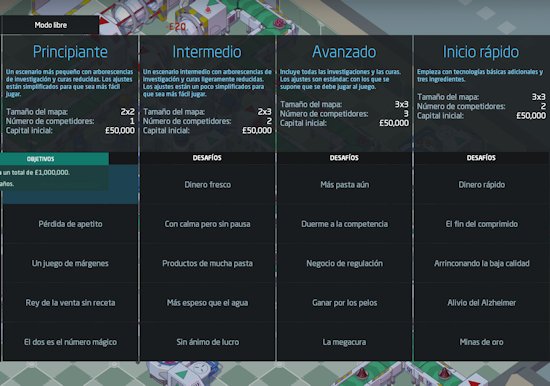 In addition to supporting a language now spoken by approximately 400 million people, Big Pharma build 1.04 also has this bunch of cool updates… (Thanks to tim for the list).
Cyrillic/pan-European character support making Russian and other unofficial translations possible
Added an extra speed button. 5x speed used to be hidden behind 2x. Now it has its own button.
You can see scenario title in objective title bar now.
Lowered process time of UV Curer, Sequencer, Sachet Maker and Centrifuge to 2 to make them more usable in long production lines. The change to the centrifuge should be especially interesting.
Analyzer now has a zero process cost and upgrading it increases the speed of analysis. This should make an analyzer-driven strategy more effective.
Daily profit calculation is now more even and less prone to fluctuation.
If you put two of the same cure in a drug it doubles the strength. It used to bug out before this change.
Fixed a few display issues in German language version
Fixed a few animation glitches
So lots for budding Martin Shkreli wannabes to get their teeth into! Hurrah! (Or you know…you can be 'the good guy' and concentrating on curing disease, its up to you :D. If you are enjoying Big Pharma and you bought it on steam, please leave us a positive steam review. Most people forget to do this, and it doesn't have to be something Tolstoy would be proud of, a simple 'yup its fun' and a thumbs up makes me and Tim smile.
And if for some weird reason you don't already have Big Pharma you can grab a copy from us with the button below, which gets you a DRM-free installer AND a lovely steam key (all 3 platforms):