There is nothing relaxing about the day after launching a game. Especially when you do this for a living, and other people depend on you. Its a huge, big deal. Its basically betting your one and a half years income on a roulette wheel. And the worst thing is, it can be weeks or even months before you really know if it worked. Terrifying. I read a lot of books about similar (more established industries) to give myself some perspective. One of the Harry Potter movies (not the first one) LOST money at the cinema. Despite tens, probably hundreds of millions of people seeing it, it LOST money. They broke even, then made a handsome profit, only after all the TV rights, DVD, Blu-Ray and merchandising income came in. Imagine taking in $200 million+ and thinking "Yup we are still in the red guys. Don't worry, it'll be fine in the long run." Holy fuck.
Thankfully I'm not *that* much down right now, but I'll still have a celebration pub lunch on the day I break even.
The launch has gone ok, in that people are buying it, it jumped into the steam charts, people are playing it, they are uploading steam workshop entries for their ships, and I've got some very nice comments about the graphics. That's all awesome, and trying out some of the challenges is hilarious. You people are very inventive when it comes to both ship and fleet design. I've got my ass kicked many times already :D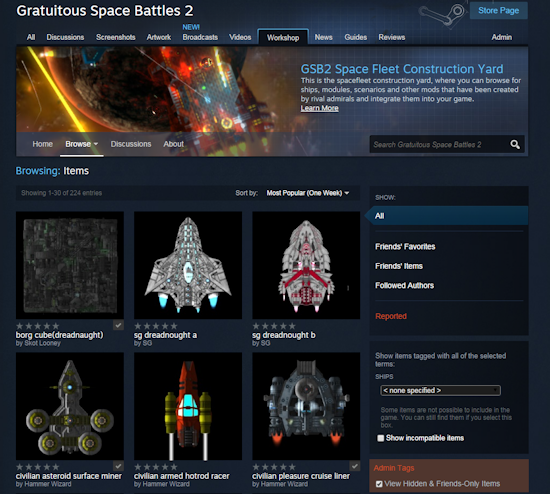 I've already patched it twice (yup I'm nuts). and am planning another one in a few days. There is a lot of admin overhead in patching the game, so I want t make each patch worth it, especially as I've fixed a bunch of urgent issues, and can now track down more obscure issues and the odd crash.
Of more interest will be what I'm learning about releasing a game in 2015 vs one in 2013. Holy fuck, its got harder. here are some observations.
1) There are so many games the media (inncluding youtubers/twitch streamers) won't care that you released a new game without real hand-waving and pleading. Just being a good, quality game isn't going to cut it any more. Unless your game has a famous actor in it, or is hilariously weird in its premise, or has some other non-game related 'hook' for the press to get excited about it, you can forget it. I hate worrying about all that. I'm a coder at heart, and this is meaning its getting tougher for me.
2) Ad costs are creeping up. The site takeover costs are stupidly high anyway, but even facebook, google adwords, its all got very very pricey.
3) There is a definite tendency for everyone to just add a game to a wishlist and wait for the sale. The inevitable sale. Kinda weird because…
4) There is still the inevitable abusive anger about a game daring to cost $24.95. People moan that the price is too high, then say they only ever buy games at 50% off. There may be some logic there but I can't quite see it myself. Every game I've ever released on steam has had a thread saying its cost too much. I suspect every game on steam has that thread. I suspect its the same posters too…
5) Nobody leaves steam reviews. Seriously, its like pulling teeth persuading people to do so. Which means only people with a bug, or a problem bother, and that drags down the scores. I can see from my stats I have a lot of happy people playing the game, I wish I could interrupt them to ask them nicely to leave a review :D
I'm guessing things are a bit quiet because GTA just came out, and it just started getting nice weather. Games are a long tail phenomena these days. GSB1 made 1% of its total earnings to date in its first week on sale. By that measure GSB2 is going to do well :D. Fingers crossed anyway :D