November 24, 2012 | Filed under: business
0063
I'm not a huge fan of kickstarter. There, I said it. I know that makes me unpopular. I'm not a fan for a number of reasons, but ultimately, if people are happy to fund games that way, then good luck to them. And of course, anything that serves as a kick in the vulnerables to big evil publishers will always get my vote. There are lots of reasons to like kickstarter, but those are commonly discussed. So let me lay out briefly, my reservations, and then expand on one I find never mentioned.
Kickstarter is selling dreams
Do you want to play Gratuitous Space Battles 2.0? It will be awesome. the ships will have AI the same level of intelligence as humans, and will have forty trillion polys each. They will be in 3D this time, and physics will model every atom in the universe. There will be 500 races, 10,000 ships and a trillion different modules, all of which will be balanced perfectly. it will run on a ZX81 at 60 FPS.
Yeah, I doubt that's possible either, but when you are typing up your dreams at the start of a project, it's very easy to get carried away. Selling dreams is a very different skill to actually building a final product. We should be rewarding people who can deliver, not who can dream. We can all name developers who can dream but not deliver. We are cynical when politicians do this, why not game developers?
Kickstarter is selling a FIXED dream
I sketched out a great game idea on my chalkboard recently, I got very excited about it, started doing a proper design doc, and half way through the design, I realized it had some fundamental flaws that meant although it *sounded good*, it wasn't going to work as a game. I had to abandon the idea. I COULD abandon the idea, as I owed nobody anything. Nobody even knew I'd considered it as a game idea. When people fund a game, they fund a game, and although a lot of gamers will be understanding if you explain major changes, some will not. Some gamers get VERY VERY angry. This is a no-win situation, either backers get angry, or the developer sticks with what turns out to be a flawed idea.  No game I've ever made bares any relationship to my original design for it.
As a developer, paying me in advance could make me lazy.
When you get builders to work on your house, do you pay them the whole sum up front? I don't. Nor do most people, because you know you aren't going to get the job done on time that way. Always hold something back. I am quite a motivated guy, but I can see why
a lot of developers will get an extra hours sleep every morning knowing they've already been paid for the next years work.
Great design is not commitee design
When I worked for a certain game designer, I found him to be a single-minded megalomaniacal obsessive dictator who knew he was right. Then I ended up as sole-owner and game designer and programmer and discovered I am exactly the same, which was an interesting lesson :D I truly believe that in many cases good game design does come from single-minded, frankly arrogant people who are obsessed with their 'vision' and who think they are right. We've all seen Hollywood movie cash-ins designed by a team of scriptwriters. I am wary of the fact that with kickstarter you are basically inviting thousands of gamers to feel like they should have a seat at design meetings. They shouldn't feel that way, but a percentage of them will. That is not good.
But there is the one which nobody seems concerned by but me: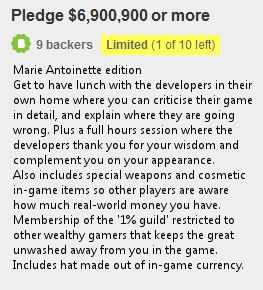 Kickstarter is the absolute poster-child for inequality amongst gamers, based on income. Now I am definitely not a raging socialist, but I know a lot of gamers are, and I find it a bit weird that it doesn't bug them that when these kickstarter games ship, not only will gamers with more money that them be swanning around with better outfits and weapons, (This already happens in F2P games), but some of the NPC's will have the names of the 'wealthy' backers. Some will even have their digitized faces in the game. Elite is actually naming PLANETS after people who back the game with a lot of money.
Gamers say they hate in-game product placement and advertising. It compromises the game design for the sake of money. I agree. So why are we deciding that the best way to name our planets or design the appearance of our NPC's is to put that part of game design up for auction? Why should gamers who are wealthy get more influence over a game that those who flip burgers for a living? The cold hard economic reality of the real world is bad enough without shoehorning it into games too.
Now you might say that we have always had this, recently in F2P games, but also with 'collectors editions' and DLC. I sell DLC myself. But I argue there is a VAST difference. To buy ALL the DLC for GSB at full price, with no bundle or discount or anything, is still easily affordable for almost any PC gamer, if you really like the game. Not so with all the top tiers of kickstarter projects. Some of them are asking for THOUSANDS of dollars. Who do you know who has a spare thousand of five thousand dollars to spend backing a game?
Years ago, it was common for bands to have 'fan clubs' where you could enter competitions to 'meet the band'. Now bands sell 'premium passes' to wealthier fans to meet their idols backstage and have their photo taken. Anyone can get will shatner's autograph, you just need to hand over hard cash for the 'honor'. I don't like this. I can imagine wanting to meet with, and shake hands with, maybe even (eek) have a beer with the people who are the biggest fans of your work. But kickstarter doesn't do that. It hands those 'lunch with the devs' opportunities not to the most enthusiastic fans, but to the wealthiest.
Are you sure you agree with that?
Don't flame me, I'm just asking the question :D If you still want to support kickstarter, I suggest backing 'sir you are being hunted', which looks awesome.