So recently I ordered a 'Kill-a-watt', a gadget that lets you plug it in between a device and the power supply that tells you how many watts, volts, amps yada yada it uses. In these times of insane energy bills (mine is now £100 a month combined gas and electricity) I think it's a smart move to work out where all the power goes. Sure, some companies quote figures, but can you trust the seller of some kit to say how much it costs to run?
The Kill-a-watt cost me £19.95 from here: http://www.reuk.co.uk/buy-KILL-A-WATT.htm and arrived this morning. Here is what the little beastie looks like: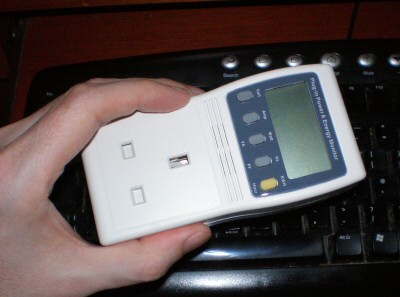 So how do all my bits and pieces of hardware stack up? First lets try that nice flat screen monitor:
The Monitor





The monitor in question is an IIyama 19 inch ProLite H481S. It's pretty lovely, but looking a bit small these days. this gets auto-turned off by vista when I'm away from the PC, and I also turn it off each evening. It's guzzling 30 watts, which isn't to be sneezed at, that's the equivalent of 3 energy saving light bulbs.

The official power consumption for this model is 40W, so it ooks like they actually overestimated its usage. I'm running it at the native res, but the (very poor) speakers were not in use.

Edit : It seems that I can push it 1 watt higher by playing 'painkiller' by Judas Priest through the inbuilt speakers. I think i generalize this to playback of any heavy metal.


The Printer

The printer is an HP deskjet 960C, which I often leave switched on when not in use. Looks like it only uses 2 watts, probably for that little green LED. No great worry there.

The Router

I use a very flaky Linksys wireless-G ADSL gateway router. Obviously it's always on, and because it gets upset when turned off (sometimes this piece of crap won't turn on until its been left off for 30 minutes…) I leave it on all night too. Looks like all those flashing lights only use up 8 watts, which is not irrelevant, but not a disaster either

I can't find any official information on what power this unit is supposed to draw, so you heard it here first!

The PC

Holy cow, the main PC base unit really does guzzle the power. This reading (160 watts) was taken after windows had booted and settled down, its an Intel dual core 6600 2.40GHZ CPU  (2 gig RAM) vista machine with a Geforce 8800 GTS video card. Interestingly, I tried some experiments with heavy processor use (rebuilding my current game project, the sequel to kudos), and some mega disk thrashing (copying huge amounts of files) and the power consumption didn't really change much at all. Make of that what you will, maybe the disk is always drawing a lot of power anyway, or maybe neither processor core is idle, or steps back its power drain when idle.

The Game

I tried starting a 2 vs 2 AI vs Me skirmish game of Company of Heroes, set to 1280 1024 res with everything set high, to see if maybe the video card could push the power consumption higher. A noticeable change, but nothing dramatic to report. maybe those people trying to sell 300 and 400 or even 500 watt power supplies are overstating their case?

Sleep Mode

ZZZZZZZZZZ. I set vista to go to sleep mode if left for 15 minutes or more, and am very happy with how it springs back to life damn fast. I still make the effort to completely power down the beast overnight, and a BIOS timer wakes it when my alarm clock goes off. is this worth the hassle? In sleep mode it looks like its drawing a measly 3 watts, less than the flipping router.  Interesting stuff :D
So there you have it. later today I might check out what the TV, the Wii, the other gadgets and gizmos draw to see if theres anything stupidly hungry that I'm leaving on (although generally I'm obsessed with turning all this stuff off).