For the last year or so I've been employing a pretty 'passive' approach to promoting my current game Production Line. By this I mean that I have primarily concentrated on posting on my own forums and the steam forums, posting weekly video blogs, and cross posting those to the forums, reddit and my production line facebook page.
In a sense, all of that is basically preaching to the converted, as if you follow me on youtube, are subscribed to the reddit, or a fan of the facebook page… well you already know about the game and very likely already bought it.
The only way in which I am actively reaching beyond the current audience is by some facebook ads, but obviously the cannot reach everyone (loads of gamers don't even have facebook accounts). We don't have any more game shows coming up for me to meet youtubers and press, so apart from facebook, to the outside world I'm pretty silent about the game.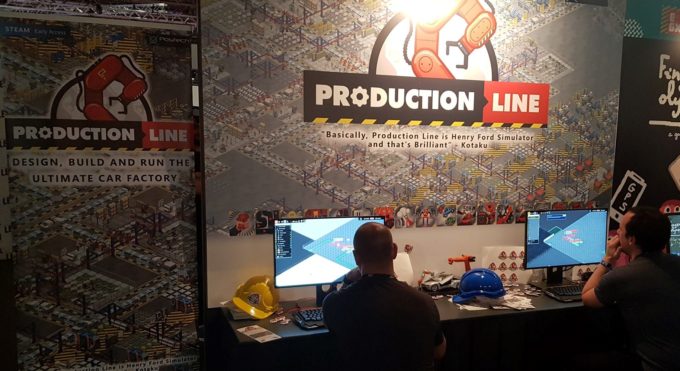 I should probably get used to changing that as the game eventually shuffles towards release (probably January next year?). With that in mind, I think I'm going to set aside some time next week to build up a proper list of youtubers to get in touch with, and put together a proper updated press release with new screenshots and information. The game is now on Kartridge and the Humble Store, so that definitely needs updating.
Of course the trouble with any *active* promotion is that it involves my time. The blog posts, video blog, tweets and facebook posts already take up a big chunk of time, and I'm busy coding the game as it is! Unfortunately I don't have any *easy* way to outsource any of this work. It is *me* in the videos after all, and even if I could record the video, then pay someone else magically to disassemble my green screen, render out the video (only 2 mins editing normally needed), upload it, cross-post it and so-on… its only likely saving me 30mins-1 hour a week anyway. Thats also the fantasy scenario where someone beams star-trek style to my house to assist me, then beams out immediately.
SO I remain, after all these years both the code AND the marketing/PR/Biz bottleneck for my company. I have a horrible feeling that if I *did* ever expand further, code would be easier for me to outsource the rest of it. I've tried outsourcing PR a lot of times and never made a decent ROI (or even a positive one).
Food for thought.