One of the major design elements in Production Line is the idea of vertical integration. Put simply, vertical integration is taking all the various steps in the production chain for a product and taking them in house. Its like Steam making the games as well as selling them, and owning the data centers, and owning the networking infrastructure too, and owning a payment processing company etc.
The theory is that money is made by everyone in the production chain. In car-specific terms, the people who own rubber plantations make a profit. They sell the rubber to an exporter, who makes a profit. he delivers and sells the rubber to a tire factory which makes a profit, and they sell tires to the car maker, who is then paying for all of that. In theory, owning everything (including the plantation) helps you both capture all that profit, AND simplifies your logistics. your supplier isn't going to go bankrupt or mess you around, or have problems anticipating your demands when you own them. In theory.
Henry Ford (he of the original production line idea) took this to extremes. He did indeed buy rubber plantations (although that was a disaster) and he expanded his factories to the extent that eventually just raw materials (wood, steeel, glass…) came in one end of the factory and finished cars rolled out ton the other end. This is a major undertaking, but also I suspect a pretty cool element to build into a tycoon game such as Production Line.
In the screenshot below (click to enlarge), I have my first steps at this. I haven't gone as far as smelting steel yet, but the layout shows 3 main car production lines going from top left to bottom right, and at the bottom left of the screen is a collection of 4 different manufacturing slots. these slots are making car doors, car roofs, car seats and wheels. The very same over-head conveyor system which delivers components and raw materials to the production line slots is also used to ferry completed seats, wheels etc from those slots to wherever they are needed within the factory layout.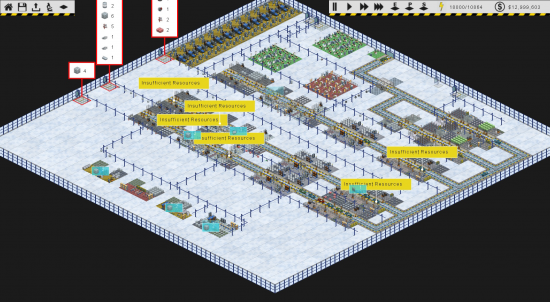 This is not different really to a game like factorio, where you have raw materials (copper, coal,oil) and they pass through some intermediate factory widget that converts them into something else, onwards and onwards. I doubt that production line will go anywhere near as far as factorio in terms of the *scale* of those production lines, but I do hope to spice things up in terms of financial analysis and efficiency analysis. I don't know about you but when I look at my 60+ hour factorio maps I have acres of old equipment just spinning away doing nothing because I've oversaturated my copper or some-such. This should NOT be something that happens in PL. Factory space will be EXPENSIVE, and all slots will use power which will be EXPENSIVE. The aim is to ensure you have to keep an eye on efficiency all the time. Efficiency is the name of the game*
I haven't decided how best to refer to the idea of making stuff inside the factory as opposed to buying it in as components. Maybe 'Local Production', Maybe 'Internal Production'? In any case, I hope people will see it as the natural extension of their production line as they expand towards the middle of the game, and keeps the game interesting beyond the 'I am making cool cars now and making a profit' stage.
*it isn't. The name of the game is Production Line.