So I didn't win a BAFTA. I didn't think I would. I thought Papers,Please would win it, and it did. I did get to drink champagne and listen to carol vorderman and some nobody from hollyoaks though. Quite why some nobody from hollyoaks is giving out games awards baffles me. At least Dara O Brien actually *is* a gamer.. Anyway…
By the time you drive to London & back, park in London, book a hotel room in London, BUY 2 tickets for the awards ceremony and hire special outfits that apparently in 2014 we still need to drink champagne… There isn't actually much change from £1,000 ($1,600) in being an indie game dev at the BAFTAs. Obviously for a billionaire like me, this is petty cash, but it's a big chunk of change none the less. Luckily those fine chaps at steam ran a BAFTA sale on the day with Democracy 3 included, which earned me about £12k that day, so woohoo! I win!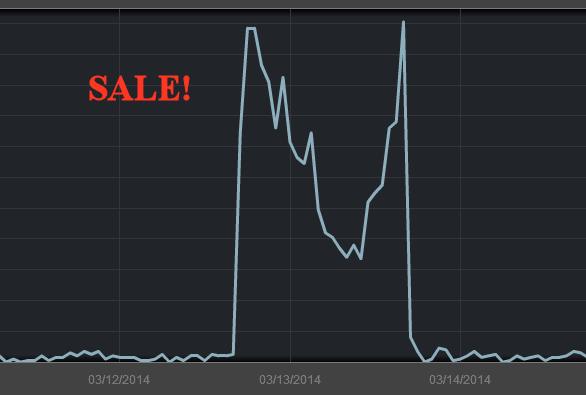 Now I'm back in my sheep-surrounded country headquarters, and coding away, there are probably a number of other updates to mention. Update #1 is that for a LONG TIME, I will be working away on Gratuitous Space Battles 2, and mostly I just *can't* show you any of the stuff I'm doing now until I reveal the 'big feature' in it, and I don't want to do that until i have some newer art, which will be a month or three.
Secondly, there are firm plans now to bring Democracy 3 to the IPAD. Oh yes. the IPAD. I have not been a huge evangelist for the income-generating potential of the ipad, but I have had such commercial success with D3, and it's such a touchscreen-friendly GUI, that I have taken the decision to give it a go. There are not enough thoughtful deep strategy games on tablets, so I'm hoping to find a niche there. I'm outsourcing this 100%.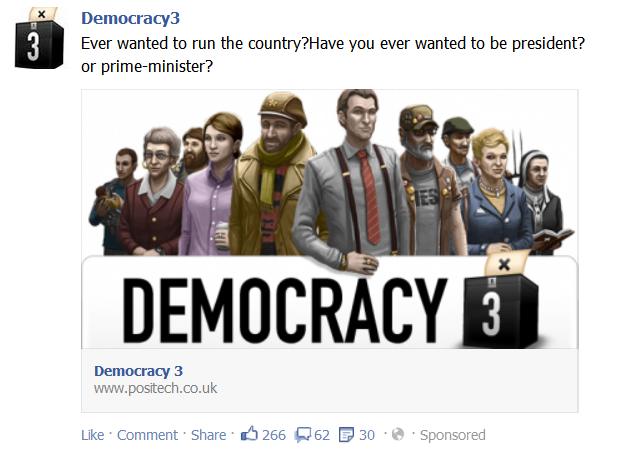 Thirdly, I continue to throw money at advertising, despite nobody ever agreeing with my theories there :. Right now I have a pretty steady $400/day spend on facebook ads. My tracking (which I'm improving today) shows that getting someone to visit the BUY page on my site for D3 costs between $3-4. The game is $25, DLC can take that higher, and of course there is extra viral + future income. Right now, I'm content to continue with that experiment, having chalked up $4,541 on facebook ads this month. The direct+steam+apple app store sales of D3 are very good, so I'm still somehow making a daily profit on this, and as D3 has paid for itself happily, I'm looking at this process as a general 'raising my general site profile' expense right now. I'd stop if it ever hit 50% of my revenue.
There are also TWO other projects in the works under the positech umbrella. that probably sounds mad, but I'm slowly expanding in little dribbles, and I'm not working on either of them, so I still have plenty of time to concentrate on spaceships. yay!