Today I got a decent chunk of work done for the regimental colors editor for GTB. GSB only had your user name, which didn't really add a feeling of connection to the other player, so GTB will have your regimental logo (like a cap-badge insignia) associated with your maps and armies, so hopefully players will feel more like they are really fighting against proper opponents.
I plan to support user-designed, uploaded logos too, but because 95% of players won't be arsed to do that, there is a simple editor that arranges a logo out of 3 layers and renders it to disk as your profile logo. The rendering isn't done yet, but the rest is: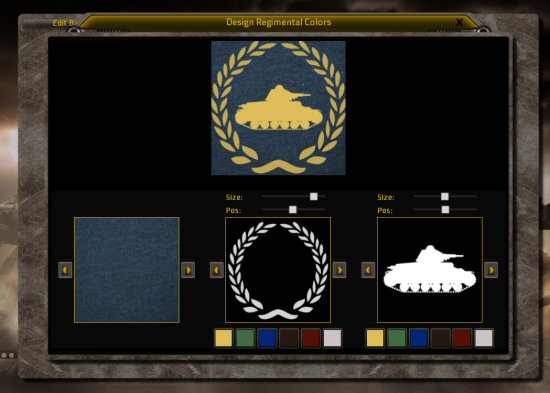 You can choose between a bunch of graphics and the three layers get combined, with a choice of some colors, plus you can move elements up and down and scale them. It's the bare minimum that will give me an assurance that you will generally see fairly unique logos for all your opponents when playing other players armies. Plus it was fun to do :D
The problem with code like this is you can get *too* into it. I could happily spend a week doing a fully featured military insignia designer with a ton of features, but you can't have that attitude with a game as huge as GTB if it's ever going to ship :D I really hope the game does well enough for people to get into designing really cool logos. GSB has a great modding community and I'd love to see them go to town with stuff like this.