I was chatting to Jeff from Wolfire a few weeks ago about their game overgrowth, and we started experimenting with ideas for cross-promoting our games. Since then I've been insanely busy, but I did get as far as putting this rather cool, and (to me) amusingly rabbit shaped spaceship (complete with Overgrowth logo) into GSB: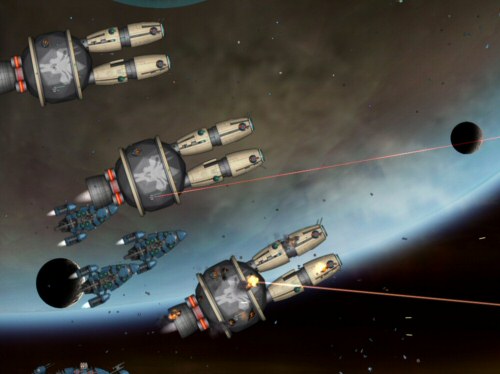 Why a rabbit? Well I think I should let Jeff himself describe what the rabbit connection is:
"Overgrowth takes place in the savage world of Lugaru where rabbits, wolves and other animals are forced to use paws, claws and medieval weaponry to engage each other in battle. Combining 3rd person adventure platforming with intricate melee combat, Overgrowth achieves a unique feel. Overgrowth also benefits from Wolfire's brand new Phoenix Engine which has been built from the ground up to allow the use of cutting edge graphics, animation, and physics."
Overgrowth certainly looks like an amazing game. I remember being impressed by the original Lugaru game, and OG looks like it will be a big hit.
The thing I find really interesting though, is the way in which our companies can do stuff like this, where we promote each others games, even stick content from one game in another, with the minimum of fuss. When I suggested we stick a rabbit ship in GSB to see how it could work, I didn't need to get my lawyer to talk to wolfires lawyer. I didn't need a strategic planning meeting with the head of corporate strategy, or have to justify to shareholders why we should help out what they would see as our competitors…
This is what I like about the Indie attitude.  Indie devs often share tips on game coding, getting decent contract work done, promoting websites and running forums, even the financial side of the best payment providers and who knows a decent accountant etc.
Can you imagine the head of EA giving the head of Activision tips on how to save on their bandwidth bill?
This is the indie attitude, and the indie advantage. We tend to take it for granted, because at the end of the day, me and jeff are two guys who love games and love making games. Somewhere along the line, the mainstream industry forgot that.