Yay! At long last, you can now control an ENTIRE COUNTRY through your finger tips, whilst idly sitting on a sun lounger on the beach! (glare-permitting of course). That's because the worlds favorite neural-network powered turn based strategy game about politics is now available on the ipad! Check out this incredibly exciting screenshot of the store: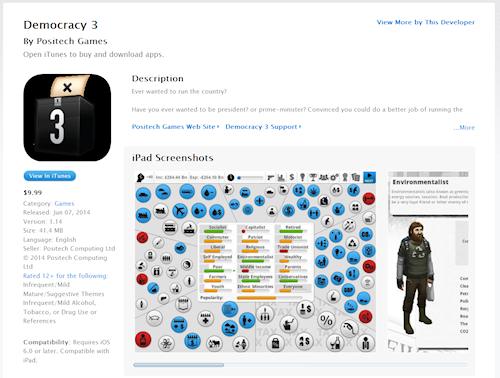 Here is a list of the locations you can buy the ipad version of the game:
1) The apple app store: https://itunes.apple.com/us/app/democracy-3/id882525717?ls=1&mt=8
That's it.
I have to admit, I am rather pleased with the way the game translates to a small tablet, it works pretty well. It doesn't have a sprawling GUI like the PC version does on bigger monitors, but I think that is made up for by the convenience of touch controls and the 'take-it-anywhere' nature of the ipad. I hope it will do well. Annoyingly apples sales reports seem to lag by two days so I have no idea if anyone bought it yet.
I've priced it at a BARGAIN price of $9.99. This is cheaper than on PC, but then its fixed resolution, no mod support etc, so I suspect it's reasonable. I really don't care about anyone on the app store complaining about the price. You can basically fuck off and die in a fire if you think the game is overpriced. That's the official developer & publisher position BTW. People who think $10 is overpriced for a game should go play angry birds of flappy birds, or similar fare and stop whining :D.
I hope it does well, partly because I like money, but mostly because ever since I bought an ipad, it's sat and gathered dust, with far too few decent involved strategy games for the platform. If D3 does well, I'll tell everyone so they can see it as a viable platform for more 'serious' strategy gaming. That would be a *good thing*.
Please help me spread the word. I am totally new to iOS gaming, so if you run a HUGE website dedicated to iOS games and haven't got a review copy, email me at cliff AT positech dot co dot uk.