I recently spent some time looking at a bunch of tower defense games, and it saddened me to see how little innovation most people attempt in that genre, although I guess that is something pretty generally applicable to all genres, and most peoples first game. I might be lucky, in that I always have an urge to put some sort of 'spin' on any game I make, i am never happy to just do 'a game in this genre' and leave it at that. It's worth remembering, as a game designers, that the player will always be asking themselves 'why do I need to play this, when I can just go play the classic tower defense game X'.  You really need to have an answer to that question.
With regards to Gratuitous Tank Battles, which is my first ever tower defense game, I probably overdid it a bit in terms of trying to innovate. They say you should only innovate in one direction at a time, but I think life is too short for that. What I tried to do was question all of the 'design assumptions' of the genre.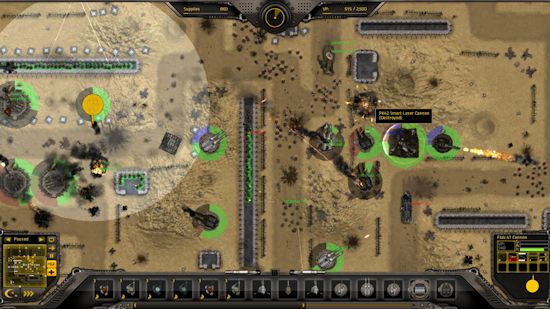 The first assumption is that the player is the defender. Obviously the clue is in the title, but why wouldn't a 'tower attack game' work? I think GTB shows that it can work. There was already a game released that did this, although it was essentially just escort missions, thankfully, because it was released just as I was half way through making GTB.
The second assumption is that the towers are invulnerable. I think this is arbitrary and crazy. It adds an extra level of excitement and gameplay to Gratuitous Tank Battles to know that you can't just place a big gun somewhere and know you have that site covered. This seemed like a major change, and a change for the better to me.
The third assumption was that the towers are of fixed designer-decreed configuration, and can receive a linear upgrade path mid-battle. People really expect that in a TD game, and not including it does un-nerve people, but it adds a whole new layer to the game in terms of unit customization. Also, that ties in nicely with the design of Gratuitous Space Battles, where it was the major focus.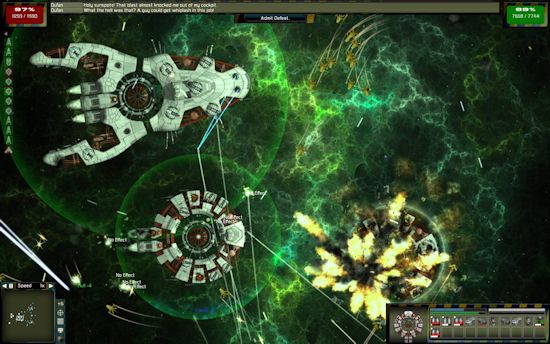 Another assumption was that the attackers come in a pre-set path, linked to a radar which gives you advance warning, also that they come in waves. All of this is totally arbitrary. There are not stone tablets decreeing the rules of tower defense design, you can do whatever you like. I broke all three of those assumptions about attacking waves, and personally I think that adaptive AI for the attackers (and defenders) totally changes the nature o the game and vastly expands the play-time available. This is one of the assumptions I was most proud to break.
There are other changes to GTB that make it a non conventional TD, such as the setting, the level editor and map/unit sharing online, but I think the key to making the game work and be interesting was that I looked at the 'set-in-stone' assumptions and basically kicked them all out. I find that this works amazingly well in game design. Some assumptions are there for a reason, but many are not, and when they are broken, once we get used it, we love it. The Sims can be turn based (see Kudos) A game can have no 'game world' at all (see Democracy) A space battle RTS can have no player control (see GSB) and there are much bigger examples too:
The object of an FPS can be not to kill (See Thief), health packs can be made redundant, with auto-regenerating health (wasn't that Call of Duty 4?). Base building doesn't have to be in every RTS game (again, not sure who started that).
The 'classic' design of a genre is a mere starting point. When you design a game, you need to question every aspect of it, and make sure you have a rock-solid defense of why it 'has to be that way'.