I tried to advertise with a BIG game-advertising agency through their self-service system to place this ad on a major US games site: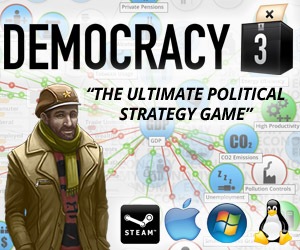 I got this:
Message from the publisher: I'm sorry, but your ad banner is inappropriate.
Me:
so… why exactly?

Or do I just spend my money elsewhere?
Them:
I apologize, but we can not promote any politics as this is a sensitive topic.
WTF? I bet ads for games like hitman, or GTA, or games where you get slow-mo closeups of people's skulls being blasted apart by high-caliber bullets are just fine. But discuss income tax? OH NOES THE WORLD WILL END! I saw a clip of mortal kombat on that charlie brooker doumenatry that made me feel sick, but apparently we as an industry are just FINE with that… It's stuff like this that sometimes makes me ashamed to be in this industry. Half of the industry wants to be grown up and accepted as art, the other half have the mentality of seven year olds. I'm pretty cynical, but I never expected my ads for a game about government-simulation to be too controversial to be shown (for money no less…).
My next game will be gratuitous homicide battles. I bet everyone will let me promote that one eh?