So…democracy 3…
There are a whole bunch of voter groups. here is a nice shiny image showing what they are.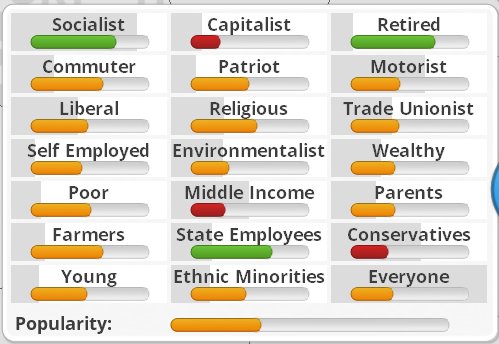 My current dilemma is adding enough effects that determine the changes over time in the membership of these groups. Some are pretty obvious, as in the three income groups membership is determined by the underlying economic simulation regarding income / redistribution / your policies on tax etc. But many are more subtle. For example, what would increase the number of liberals in your country? I already have a bunch of 'membership' effects, but I think it would be cool to add more, without it requiring adding tons and tons of new policies. Here are my current ideas, and I welcome more, or criticisms of my reasoning:
motorists should be increased/decreased by traffic congestion (more pleasant way to travel)
commuters increased by bus subsidies and rail subsidies (presumably making it cheaper / nicer)
liberals increased by race discrimination act and community policing? Also boosted by teaching evolution.
Environmentalists boosted by recycling, hybrid cars and micro generation grants. (daily routine or economic benefits to being green)
Retired boosted by pensions (afford to quit early)
State schools and childcare provision should boost parents membership (having kids less expensive or hassle)
Vigilante mobs should boost conservative membership (fear of the mob!)
Winter fuel subsidy should slightly boost the retired, as they live longer!
Like I say, I'm looking for long term effects on membership of a group, not just happiness of existing members. For example, car tax pleases environmentalists, but I doubt it persuades anyone to take up the green cause who wasn't already persuaded.